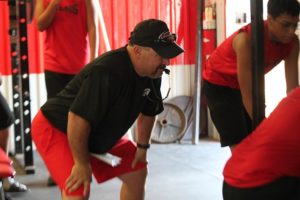 LOCKNEY — Coach Cory McCombs kicked off his era as the new Lockney Longhorns head football coach with a twist, holding a Midnight Madness practice at 12:01 a.m. Monday, the first day schools were allowed to hold athletic practices for the upcoming season.
McCombs reported that 38 players and approximately 100 supporters turned out with the typical excitement of a brand new Texas high school football season.
"There was a lot of excitement for the midnight practice by both the players and fans in attendance," McCombs said.
Lockney's numbers include a strong senior class of 14 players to provide leadership. Most of these players were part of the Longhorns' successful turn-around season in 2020 with a 7-2 record, despite the struggles of dealing with COVID-19 issues.
The remainder of the team breakdown by numbers includes nine juniors, eight sophomores and seven freshmen.
Lockney will hold daily practices from 4 to 9 p.m. starting out in shorts and helmets through Thursday as required by the UIL. The first day with full pads and contact will be on Friday, August 6.
Saturday morning there will be a Meet the Longhorns event that will include photo sessions at 8 o'clock, followed by an intra-squad scrimmage at 9:30.
Lockney's first scrimmage against another team will be on Friday, August 13 with the Sanford-Fritch Eagles at Mitchell-Zimmerman Field.