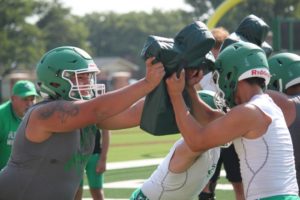 FLOYDADA — The Floydada Whirlwinds started their pre-season football drills under new coach J.R. Compton with 37 players reporting on the first day Monday.
"It was a good first practice," Compton said. "Many of the players had been participating in the summer conditioning sessions and playing 7-on-7 on Thursday evenings. It is a different practice routine and those that have been attending recently have a grasp on it."
Athletes attending the first practice broken down by class are: five seniors, nine juniors, 14 sophomores, and nine freshmen.
"I think some of the freshmen thought practices do not start until the first day of school like it was in junior high," Compton said. "There are close to a dozen freshmen that did not show up that had previously signed up for football. We need those guys to get their physicals completed and get on in here to pick up their equipment and get started with us. We have a place for you freshmen on our teams and want you to be a part of the Whirlwinds," he added.
Physicals for FCISD athletes are still being offered for a discounted amount of $20 by Covenant Health at Cogdell Clinic in Floydada.
Workouts will continue on weekdays from 5 to 8 p.m. Workouts will include two sessions broken into one session on offense, and one on defense. The Whirlwinds will practice in shorts and helmet through Thursday, then Friday will be the first day of full pads and contact.
Saturday morning, August 7 at 9:30 there will be an intra-squad scrimmage that will last for approximately an hour and a half. The public is welcome to attend. The first action against an opponent will be Friday, August 13 in a triangular scrimmage with Quanah and Farwell at Charles Tyer Stadium in Floydada. A second triangular scrimmage will be with Bovina and Trinity Christian at Trinity's new stadium in Lubbock on August 19.
Team and individual photos will be at 3 p.m. on Friday, August 20. Meet the Whirlwinds will be that evening at 7 o'clock where all the players and cheerleaders will be introduced. A watermelon feed will be held following the introduction session.
"I encourage parents and fans to join the Whirlwind Booster Club. We want and need more people to be involved and be a part of our program," Compton said. "We had a good parents meeting on Friday, July 30 with 29 sets of parents attending to meet the coaches and hear about our expectations first hand. I was encouraged by the turnout," Compton added.
Compton stated when he took the job, "I want to build the Whirlwinds into a haboob." He needs help from the community to do that.