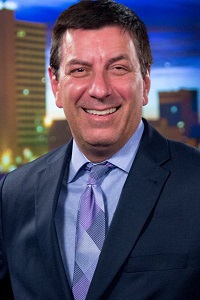 FLOYDADA — Colorful and creative Lubbock sportscaster Pete Christy has only 14 more "I Beat Pete" challenges remaining in the legendary segment's run, and one of those will be shot in Floydada on Sunday. The Floydada Fire Department will take on KCBD's Christy in "Fireman's Baseball".
This will be third — and likely final — time Christy will face off against the fire boys in an I Beat Pete challenge.
"When I was working in Philadelphia with a TV station, I was warned by a corporate officer that I would eventually run out of ideas for challenges for I Beat Pete, but I told him I was going to do a thousand challenges before I am through," an energetic Pete Christy said in an exclusive interview with the Record.
Christy has served two stints at KCBD sandwiched around his time as a sportscaster in Philadelphia, one of the nation's largest television markets. He started the 'I Beat Pete' challenges the first time he was in Lubbock.
In the early days of the challenge, it was just Pete versus someone else, but in his go second go-around in Lubbock, he and a team of three others from the KCBD staff would go up against challengers with a team of four.
Even with a losing record and perpetual underdog status, Pete is not one bit discouraged from hitting the 1,000 challenge mark.
"I have a record of 487 wins and 499 losses. That equals 986 challenges. I was the underdog every time," Christy said with chuckles. "I have taken on three national champions in basketball (the Lubbock Christian Lady Chaps on two occasions and South Plains College Texans), multiple high school state champions in various sports, and interesting events or groups that accomplished something significant that take place across the South Plains. It has always been with the intention to put the challengers in a spotlight or promote their event or organization," he explained.
"My team is going up against the Floydada Fire Department for a third time," Christy said. "I have yet to beat those guys in two previous attempts. This time we are playing Fireman's Baseball that I dreamed up, but the fire boys have come up with the method of the game," a fired-up Christy explained.
"The Fireman's Baseball game will be played Sunday afternoon at 4 o'clock at the Little League field at the corner of Crockett Street and Whirlwind Way," Floydada Fire Chief Chad Guthrie told the Record. "We will use a dodge ball which is slightly larger than a volleyball. "The person at bat will have multiple shots at the dodge ball with a high pressured fire hose connected to a Floydada fire truck. There will be base runners on the base paths, and they will take off running as the player shooting the water at the ball tries to move it as far as he can. The base runners' goal is to cross home plate for a score. There will be an allotted time and number of water blasts allowed for each batter. We are asking members of the FCHS Lady Winds softball team to be the umpires. It is going to interesting and fun," Guthrie said.
Christy is looking forward to his last shot at the department. This time, he says, he won't lose.
"I have had some memorable challenges in Floydada, and I'm definitely looking forward to getting revenge against the Floydada firemen," Christy said in a smack-talking tone.
Pete has a 2-4 record in previous visits to Floydada:
Donkey basketball at Graves Gym vs. Whirlwind basketball team (including Douglas Williams and Payte Beedy) — Floydada beat Pete
Pump Relay vs. Floydada Fire Dept. — Floydada beat Pete
Water Polo vs. Floydada Fire Dept. — Floydada beat Pete
Pumpkin Bowling — Floydada got beat by Pete
Punkin Dunkin' — Floydada got beat by Pete
Shooting Contest vs. Floyd Co. 4-H Shooting Sports — 4-H beat Pete
Come out Sunday afternoon at 4 o'clock to the Little League baseball field to see if the Floydada Fire Department can remain undefeated in the last edition of a friendly 'I Beat Pete' rivalry. It's going to "sport-tacular!"