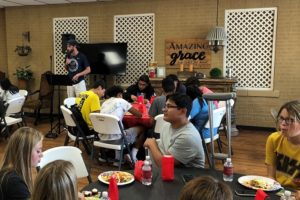 LOCKNEY — Lockney athletes had a very special treat at a luncheon Wednesday, thanks to the Lockney Fellowship of Christian Athletes huddle.
Former Olympic high jumper Bradley Aikens was on hand to give a keynote address. First Baptist Church of Lockney provided the meal and facilities.
Coach Kelan Verette and Garrett Heard of FCA (who is also a former baseball coach at Lockney) coordinated the event.
FCA seeks "to make disciples through our methods of engaging, equipping and empowering coaches and athletes to know and grow in Christ and lead others to do the same," according to their website.