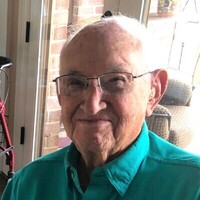 Clarence Edwin "Corkey" Guffee (Floydada)
Corkey Clarence E. Guffee went to be with his Lord on Monday, October 25, 2021. Funeral services will be held on Saturday, October 30, 2021, at 11:00 a.m., at First Baptist Church in Floydada.  Burial will follow the service at the Floydada Cemetery. Visitation will be held on Friday evening, October 29, 2021, at the Moore-Rose Funeral Home in Floydada from 5:30 p.m.- 7:00 p.m. Arrangements are under the personal care of Moore-Rose Funeral Home in Floydada.
He was born in Floyd County, November 3, 1928, to Clarence A. Guffee and Opal Mae Moody Guffee.  He graduated from Floydada High School, Class of 1945. He graduated from Lippert's Business College with a degree in accounting.  He was a faithful member of the First Baptist Church in Floydada his entire life.  He was a great witness for Christ.  Corkey worked at Lighthouse Electric Coop as an accountant for 43 1/2 years before retiring in 1993.  He was a land and livestock farmer as well. Corkey was active in Lions Club, Kiwanis, Toastmasters, and Rotary Club.  He supported his children's activities by serving in various capacities. A very proud moment for him was when he was selected as the Pioneer of the Year for Floyd County in 2017. Corkey was a fisher of men for Christ but also had a true love for fishing and golfing. He married the love of his life, Janiece Marie Hill, on August 5, 1949. They celebrated 72 years together.
He is survived by his wife, Janiece Guffee; children, Larry (Carla) Guffee and Phyllis (Ross) Hamilton; six grandchildren, Candice Connelly (Steven), Christopher Hamilton (Mandy), Jason Hamilton (Kim), Lucas Guffee (Leslie), Jeffery Hamilton (Christine), and Angela Stewart (Jason); seven greatgrandchildren, Canon, Abigail, Emily, Addison, Bonnie, Noelle and Tre; one great-great-granddaughter Karson; his sister, Sonja (Robert) Ragsdale, and several nephews and nieces.
In lieu of flowers, the family suggests donations be made to the First Baptist Church music or food program.