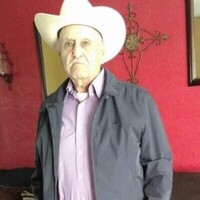 Santos Hernandez (Lockney)
Santos Hernandez, age 88, passed away on Thursday, November 4, 2021.  Mass of Christian Burial will be at 2:00 p.m., Monday, November 8, 2021, at San Jose Catholic Church in Lockney.  Interment will follow at the Lockney Cemetery.  Rosary will be recited at 6:00 p.m., Sunday, November 7, 2021, at San Jose Catholic Church. Arrangements are under the personal care of Moore-Rose Funeral Home in Lockney.
Santos was born on November 1, 1933 in Cuauhtemoc, Mexico to Jose and Sara (Valenzuela) Hernandez. He met and married the love of his life, Socorro Mata in Mexico in 1965.  Santos worked as a farmworker for multiple farms for 58 years.  He was a member of the San Jose Catholic Church.
He was preceded in death by his parents, Jose and Sara Hernandez; and a brother, Heustaquio "Poco" Hernandez; and a sister, Socorro Hernandez.
Those left to cherish Santos's memory are his wife, Socorro Hernandez; his children, Hector and Elena Ortega, Jose and Griselda Hernandez, Martha and Gustavo Bejarano, Sara and David Flores, Santos, Jr. and Ambrosia Hernandez, Maria and Rufino Solis, and Karen and Andrew Schellenger; numerous grandchildren and great-grandchildren; and his siblings, Humberta Hernandez, Sisto Hernandez, Rosario Hernandez, and Ebodia Castillo.