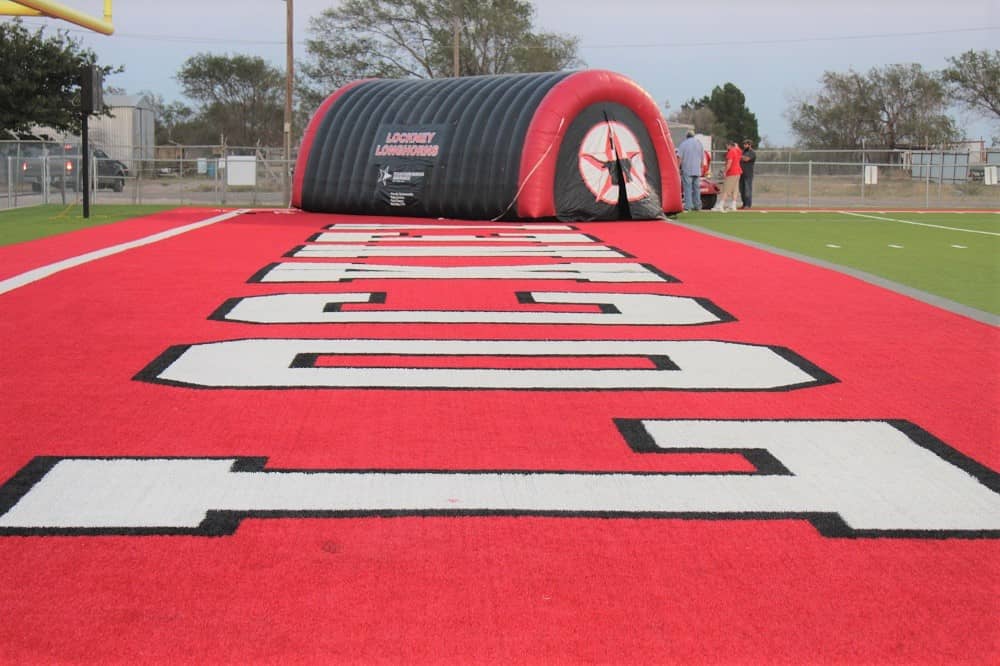 (File Photo/Deon Zumwalt)
FLOYD COUNTY — The all-weather artificial turf fields have made a difference in high school football playoff games coming to Charles Tyer Stadium in Floydada and Mitchell-Zimmerman Field in Lockney. There will be a total of three bi-district games staged in Floyd County this week.
Thursday, November 11 — doubleheader at Tyer Stadium:
New Deal Lions (9-1) vs. Olton Mustangs (6-4) in a 2A-I playoff, 4 p.m.
Childress Bobcats (9-0) vs. Stanton Buffaloes (4-6) in a 3A-II playoff, 7:30 p.m.
Friday, November 12 — Mitchell-Zimmerman Field:
Sundown Roughnecks (7-3) vs. Sanford-Fritch Eagles (4-6) in 2A-I playoff, 7 p.m.
Other playoff games of local and neighboring schools:
Thursday
Lockney Longhorns (7-3) vs. Seymour Panthers (6-4) – Tuscola-Jim Ned Indian Stadium, 7 p.m., 2A-2
Ralls Jackrabbits (7-3) vs. Olney Cubs (5-5) – Sweetwater's Mustang Bowl, 7 p.m., 2A-2
Crosbyton Chiefs (4-6) vs. Archer City Wildcats (7-2) – Abilene's Shotwell Stadium, 7 p.m., 2A-2
Friday
Floydada Whirlwinds (3-7) vs. Panhandle Panthers (5-5) – Tulia's Younger Field, 7 p.m., KFLP 106.1 FM, 2A-1
Motley Co. Matadors (10-0) vs. Rule Robcats (5-3) – Guthrie's Jack Huey Stadium, 7 p.m., 1A-2