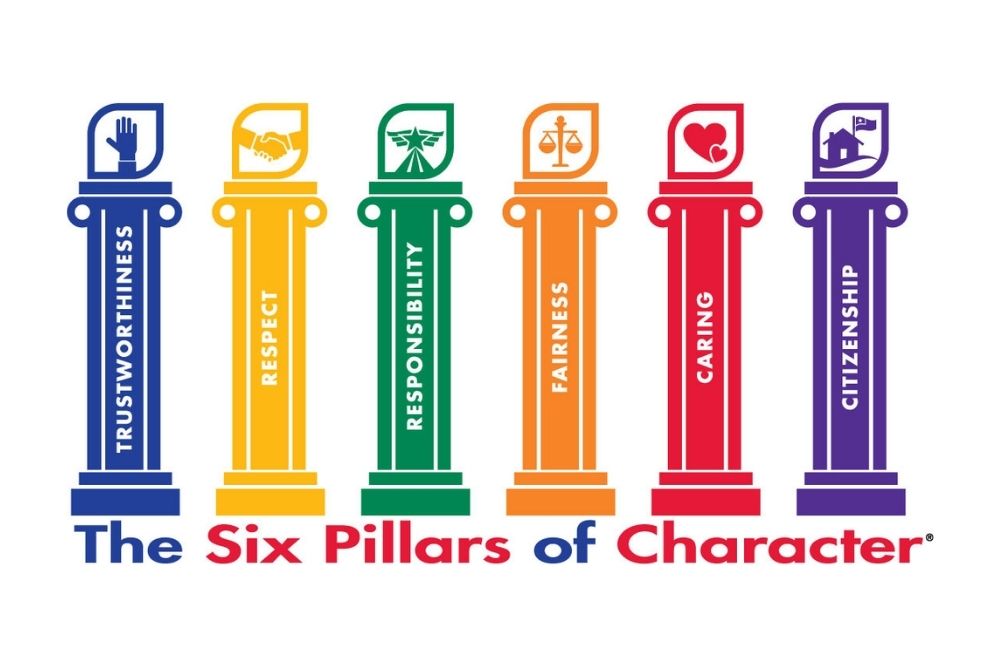 The Six Pillars of Character (Source: charactercounts.org)
FLOYDADA — Students at Floydada's A.B. Duncan Collegiate Elementary School are learning that Character Counts through an incentive program by that same name.
Duncan counselor Jennifer Gonzales says that the program is instrumental in the school's character education initiatives.
"There's six different pillars of character in the Character Counts program," Gonzales told the Record. "We talk about those, and then the kids can earn tickets when they display good character."
Every member of the Duncan faculty and staff carries with them a stack of small, green tickets that students earn when they exhibit one of the Six Pillars of Character. The kids can save their tickets and exchange them for various prizes in a "store" that travels around to each classroom on Fridays.
"(Teachers) have used (the tickets) for everything from responsibility — when (kids) bring back things they're supposed to bring back they can get a ticket, when they're acting well in class, if they're helping another student," Gonzales said.
The store has given teachers the opportunity to teach character, but also weaves in lessons of financial literacy.
"It's given us some good opportunities to talk about decision making, but also spending and economy, and if you save you get better things," Gonzales said.
Making a shift the past few years from holding Character Counts pep rallies (which haven't been possible due to the pandemic), Gonzales says that the ticket system has still made a big impact on student behavior.
"You walk in with those green tickets and everybody shapes up real quick," Gonzales said.
"We do shout-outs in the mornings. If somebody's found doing something really great, we'll shout them out on the morning announcements and then they'll get a ticket," Gonzales added. "The kids will shout each other out, which is kind of cool. (They'll tell us) 'I saw so-and-so do this, can you give them a shout-out?'"
Character Counts is a national program founded in 1992, and teaches the following Six Pillars, according to its website:
TRUSTWORTHINESS

Be honest. Don't deceive, cheat, or steal.
Have integrity. Do what you say you'll do.
Keep your promises.
Be loyal. Stand by your values.

RESPECT

Follow the Golden Rule.
Be accepting of differences.
Be courteous to others.
Deal peacefully with anger, insults, and disagreements.
Be considerate of others' feelings.

RESPONSIBILITY

Do what you are supposed to do. Try your best.
Persevere. Keep on trying.
Be self-disciplined.
Think before you act. Consider the consequences.
Be accountable for your words, actions, and attitudes.

FAIRNESS

Play by the rules.
Take turns and share.
Be open-minded. Listen to others.
Don't take advantage of others.

CARING

Be kind.
Be compassionate.
Express gratitude.
Forgive others.

CITIZENSHIP

Do your share to make your home, school, and community better.
Cooperate.
Stay informed. Vote.
Be a good neighbor.
Make choices that protect the safety and rights of others.
Protect the environment.