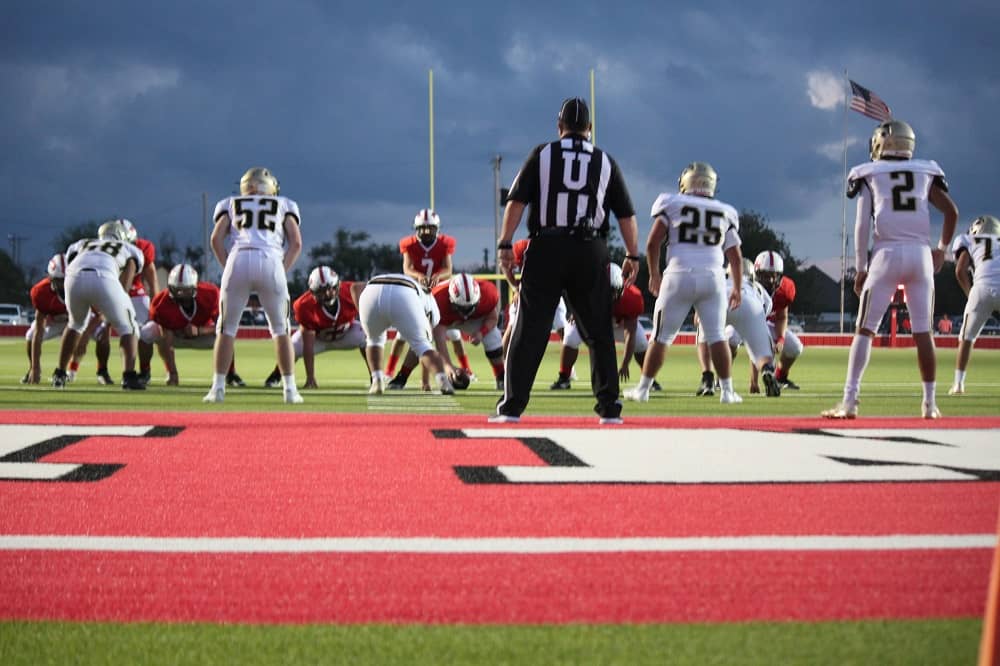 The Lockney Longhorns line up in the red zone during their homecoming game against the Memphis Cyclones on Oct. 8, 2021. (Alex Driggars/Floyd County Record)
TUSCOLA, Texas — The 2A-II Bi-District playoff game at Indian Stadium on Thursday started out like a swinging pendulum in the first quarter. The Seymour Panthers scored the first two touchdowns to jump out to a 14-0 lead, but the momentum swung back to Lockney as the Longhorns scored twice in a row to tie the game at 14-14 after the first quarter.
Lockney's first quarter scores were on an Elias Alvarez 9-yard run, plus a Pablo Morales 10-yard pass to Jonathan Cienfuegos.
Seymour would answer back with a pair of touchdowns to build up a 28-14 lead by halftime. The Panthers then started putting the game out of reach with 14 points in the third stanza and then cruised on to the 49-20 win.
"When you look at the whole body of work of the season, we did a fine job. We accomplished at lot this season with a 7-4 record. There were some real fun times (especially during the seven-game winning streak). When the injuries started mounting up, it just took a lot out of this ballclub," said Lockney coach Cory McCombs.
The Bi-Distrct playoff contest was the final game for 12 Lockney seniors: Jesus Gonzales, Nathan Cineceros, Pablo Morales, Caleb Pritchard, Justin Gonazales, Austin Rodriguez, Elias Alvarez, Chris Morena, Elizar Alvarez, Jaime Garcia, Joshua Jiminez and Quinten Johnson.
Scoring Summary
Lockney – 14  0  0  6 – 20
Seymour – 14  14  14  7 – 49
Records: Lockney (7-4), Seymour (7-4)
Lockney's Scoring
First Quarter
L – Elias Alvarez 9-yd run (Josh Jiminez kick)
L – Pablo Morales 10-yd pass to Jonathan Ceinfuegos (Jiminez kick)
Fourth Quarter
L – Morales 12-yd pass to Austin Rodriguez
DISTRICT 5-2A-II Bi-District results
ROSCOE (10-1) 38, Quanah 16
Olney 49, RALLS (7-4) 14
Seymour 49, LOCKNEY (7-4) 20
Archer City 59, CROSBYTON (4-7) 0