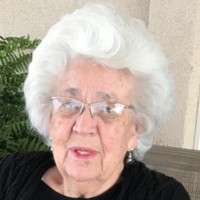 Norma Nell Marrs (Matador)
Norma Nell Marrs, age 95, of Matador passed away November 26, 2021. Visitation will be 10:00 a.m. -11:30 a.m., Monday morning, November 29, 2021, at the Matador Church of Christ. Graveside Service will be Monday afternoon at 2:00 p.m., at the Garden of Memories Cemetery in Paducah. Arrangements are under the personal care of Moore-Rose Funeral Home of Floydada.
Norma Nell was born to Charles Lee (Jack) Parnell and Bonnie Lee Clark Parnell at Plaska in Hall County. The family farmed in Flomot. After Norma's mother died, Jack married Vivian (Sug) Campbell and the family moved to Paducah. Norma graduated from Paducah High School and attend Texas Women's University in Denton.
Norma met Bruce Marrs in Paducah. The couple married on February 14, 1947. They moved to Matador in 1960. Norma was first a homemaker but worked several years as an aide at Matador Grade School and afternoon receptionist Giesecke Butane.
Norma was preceded in death by her parents, husband, and one brother, C.F. Parnell.
Those cherishing her memories are daughters Judy Dunlap (John) of Floydada and Peggy Winegarner (Arlan) of Spearman; Grandchildren Aaron Winegarner of Dumas, Audrey Gibson (Braden) of Dumas, Abby (Cody) Cook of Amarillo, Robert Dunlap of Lubbock, Bonnie (Ian) McIntosh of Floydada, and Melissa (Scott) Sengbush of Dallas; Great Grandchildren Haley, Heidi, and Hagan Winegarner, Cutler and Kaitlyn Gibson, and Karis and Laityn McIntosh; ten nieces and nephews, and one brother, Doyle Parnell of Paducah.