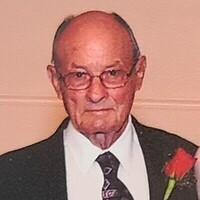 Lon Charner Colvin (Lockney)
Lon Charner Colvin, 95, of Lockney passed away on November 26, 2021. Graveside services will be held at 2:00 P.M. Thursday, December 2, 2021, at Lockney Cemetery with Rev. Auggie Aguilera of First United Methodist Church in Lockney officiating. Burial arrangements are under the care of Kornerstone Funeral Directors.
Lon was born April 28, 1926, in Lockney, Texas to James Calvin and Sallie Lena (McCoy) Colvin. He attended schools in Lockney and was close to finishing high school but was drafted into the U.S. Army and served in the European Theatre under General Patton in the 7th Armored Infantry. He was a prisoner of war after serving as a machine gunner on a tank. After returning home he was awarded his delayed high school diploma.  He married Lois Morgan Quisenberry in 1967 in Plainview. Lon was a farmer and worked at The Tye Company and Lockney Co-op Gin. He was a member of the First United Methodist Church in Lockney. He was always a happy man, loved to laugh and have fun. He was always busy, a great handyman, and could fix anything.
He was preceded in death by his wife, Lois; his brothers, E.J. Colvin, Jake Colvin, and Tom Colvin.
He is survived by his sister, LeDell Brewer of Lockney; his nieces Diane Rose of Lockney, Jo Beth Ware of Plainview, Sherry McMasters of Lubbock, Pat Hammit of Canyon, Becky Wiggs of Plainview, Donna Jan Lewis of Norman, OK; nephews, Terry Brewer of Wichita Falls, Jerry Morgan of Plainview and Gary Morgan of Plainview.
The family suggests memorial contributions be sent to First United Methodist Church, P.O. Box 7, Lockney, Texas 79241