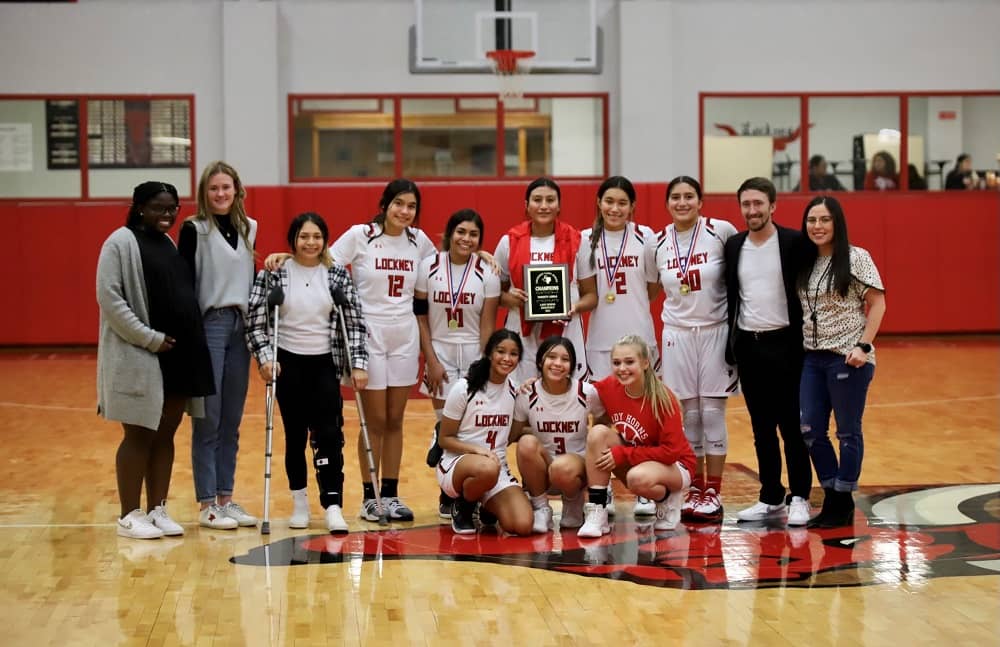 Lockney's girls snagged the 2021 Longhorn Shootout title. (Courtesy Photo/Fred Cervantes
LOCKNEY — The Lockney Lady Horns (15-4) ended a long drought of winning a basketball tournament championship when they fought off the Tahoka Lady Bulldogs 53-43 on Saturday at Longhorn Gym. It was also Trey Bale's initial tourney title as a head coach. The Lockney girls have now stretched their winning streak to seven, and they remain unblemished (7-0) on their home court this season.
The Lady Horns ended up going 3-0 in the Lockney Shootout by beating Cotton Center 70-42 on Thursday, ran past Patton Springs 75-27 on Friday and then won the championship on Saturday with the 53-43 win over Tahoka.
Four Lockney players — Gabriella Cervantes, Adri Villarreal, Mariah Ascensio and Senayda Bernal — made the all-tournament team.
Bale praised this quartet. "Adri, Gabriella and Mariah are an amazing trio. They support one another and play together very well. It is nearly a pick-your-poison of which one to defend. Senayda is an emotional leader, our top rebounder and defender."
Saturday Championship Game
Tahoka – 8  13  11  11 – 43
Lockney – 15  11  12  15 – 53
Halftime: Lockney 26- 21
Records: Lockney (15-4), Tahoka (8-5)
Lockney scoring: Adri Villareal – 18, Mariah Ascensio – 16, Gabriella Cervantes – 8, Senayda
Bernal – 6, Adaliyah Jones – 5
Rebounds: Ascensio – 9, Jones -4, Villarreal -4, Cervantes – 4
Steals: Cervantes – 5 , Villareal – 5
Blocked shots: Bernal – 4
Next: Friday, Dec. 17, 5 p.m. vs. Post Lady Lopes at Antelope Gym