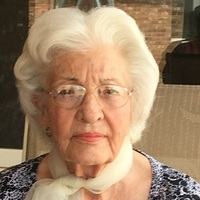 Twilla Fay Morris (Petersburg)
Twilla Fay Sanders Morris, 94, of Petersburg passed away on December 12, 2021. Funeral services will be held at 11:00 A.M. Thursday, December 16, 2021, at First Baptist Church in Petersburg with Doug Hensley of Forrest Heights Methodist Church, Lubbock officiating and Ellis Dean, pastor assisting. Burial will follow in Petersburg Cemetery under the care of Kornerstone Funeral Directors of Plainview.
A visitation will be held 5:00 to 7:00 P.M. Wednesday, December 15, 2021, at Kornerstone Funeral Directors.
Twilla was born June 22, 1927, in Silverton, Texas to Andrew and Inez (Gordon) Sanders. She married R.G. Morris on July 31, 1946, in Lockney. She grew up in the South Plains Community and graduated from Silverton High School. She farmed along the side of R.G. for many years. Twilla was a member of the Methodist Church and served as a substitute teacher in Petersburg. She was a member of the Hale County Home Demonstration Club. She loved to play and definitely win games. Twilla also loved to cook and the more people she cooked for, the happier she was.
She is preceded in death by her husband, R.G. Morris, and her parents Andrew and Inez Sanders.
She is survived by her sons, Jack Morris and wife Linda of Plainview, TX, Roger Morris and wife Liz of Telephone, TX, Vinoka Morris and wife Melanie of Petersburg, TX; one brother, Joe V. Sanders and wife Joan of Lubbock, TX; one sister, Eulalia Blankenship and husband Eschol of Spearman, TX;  seven grandchildren, Alecia Ellis and husband Ken, Audra Finney and husband Todd, Taylor Morris and wife Amber, Amber Allamon and Husband Steven, Travis Morris, Zack Morris, and wife Shari, Will Morris and wife Ashlee; eleven great-grandchildren and two great-great-grandchildren.
The family suggests memorials can be made to Texas Boy's Ranch at 4810 N Wood Ave Lubbock, TX 79403.