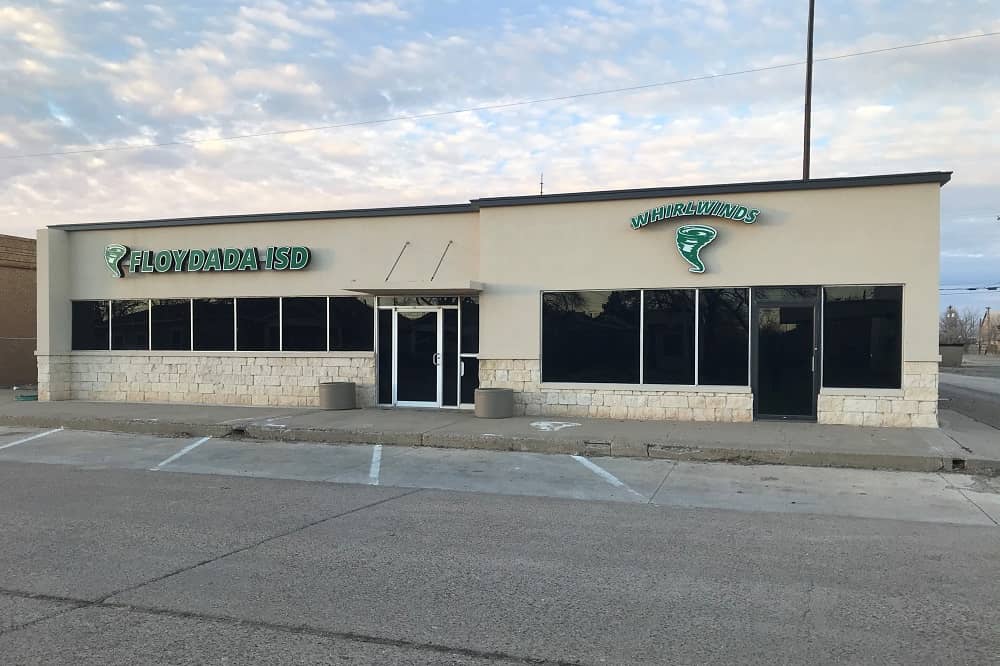 Floydada Collegiate ISD Administration Building (Alex Driggars/Floyd County Record)
FLOYDADA — A day ahead of when students are scheduled to be back in the classroom, Floydada Collegiate Independent School District announced that the district is strengthening its COVID-19 procedures and guidelines for students and staff.
The district made the announcement on Tuesday morning via automated phone call, and it comes during a wave of new COVID-19 cases across Texas and Floyd County — the majority of which are now caused by the more contagious omicron variant.
"The number of Texans hospitalized each day with COVID-19 continued to rise over the New Year's holiday, according to state health numbers released Monday, as the omicron variant continues to drive new cases and hospitals await desperately needed staffing help to respond to new admissions," The Texas Tribune reported on Monday. "Health experts — and history — warn that the peak of the current surge in Texas is likely still ahead, as the highly contagious omicron variant of the virus rages through the state after Texans return from a season of gatherings and travel."
Floyd County had an estimated 58 active cases on Tuesday, including 35 new cases in the last seven days, according to Texas Department of State Health Services data.
Floydada Collegiate ISD is urging parent to keep their kids home if they are sick and taking precautions to avoid exposing others to the virus.
"While masks aren't required by our district, we encourage the use of masks at least until we get beyond the rise of positive cases in our community," the district's announcement said. "Our staff will be proactive by increasing our sanitization of classrooms and all areas used by students, making hand sanitizer available to everyone in our buildings, and encouraging social distancing when possible."
The district added that they will once again be checking the temperature of everyone that enters a school building.
FCISD's updated guidelines will require individuals that test positive for COVID-19 to isolate for five days before returning to the classroom if the person displays no symptoms. Those individuals will also be required to wear a mask for five days after returning to the school.
Individuals who are recently vaccinated — having received two doses of Pfizer or Moderna within the last six months or one dose of Johnson & Johnson within the last two months — or other fully vaccinated individuals who have received a booster, that come into close contact with a COVID-positive person, will not be required to quarantine. Those folks will be required to mask for 10 days, however.
People who are not fully vaccinated or those who are eligible for a booster and have not received one that come into close contact with a COVID case are asked to quarantine for five days — but not required — and wear a mask for five days after returning to school. If the person chooses not to quarantine, they will be mandated to wear a mask for 10 days.
If any individual develops COVID-19 symptoms at any time, they will be required to stay home and take a COVID test, the district said.