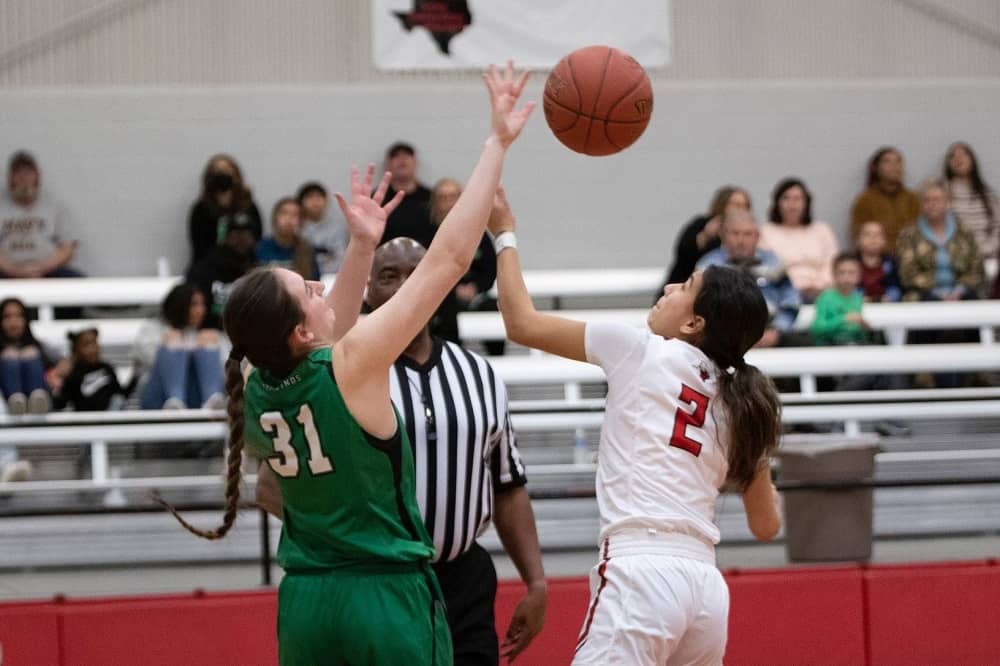 Floydada's Sierra Snowden and Lockney's Senayda Bernal face off at tip when the Lady Winds met the Lady Horns in Lockney on Jan. 11, 2022. (Cervantes Photography)
LOCKNEY — Floydada utilized its size in the paint with rebounding to overcome Lockney's 3-point shooting from the arc to take a very close 48-47 win in District 4-2A on Tuesday at Longhorn Gym.
The Lady Winds (14-6, 1-0) had a 17-rebound advantage, while the Lady Horns (20-5, 1-1) drained seven more 3-pointers — 9 to 2.
Floydada junior Lailah Burks played big in the paint with a game-leading 17 rebounds, while sophomore Sierra Snowden and senior Erin Trevino grabbed eight each. The Lady Winds snared 15 more offensive rebounds than the Lady Horns, and Floydada turned that into seven more points on second-chance opportunities. Lockney's top rebounders were Mariah Ascensio with nine and Adaliyah Jones had seven.
Lockney kept the game close with nine 3-pointers led by senior Gabrielle Cervantes with six from the arc. Cervantes was the game's high scorer with 19 points, followed by Adri Villarreal and Ascensio with 10 each. Floydada was paced by Trevino's 13, while Zay Santos and Burks just missed the double figures in scoring with nine apiece.
Opportunities at the free throw line turned out to be key factors with Floydada making 12 of 20 attempts compared to Lockney connecting on two of seven chances. Lady Winds guards Trevino went five-for-six and Santos was three-for-four at the line with clutch free throw shooting.
Lockney jumped out to a 13-3 lead early to take a 15-8 lead after the first quarter. Floydada had the momentum in the second quarter by outscoring Lockney by eight to take a slim 22-21 lead to the locker room at halftime. Then the fight was on for the final two quarters where the teams played each other even down the stretch in a typical Floyd County rivalry fashion.
"This was a big win for us to open up district play," Floydada coach Adam Zepeda said.
How big was this win? It snapped a 12-game winning streak for the Lockney girls going back to a Dec. 4 win over Sterling City in the Tahoka Tournament. It also was the Lady Horns' first loss on their home court at Longhorn Gym this season. Lockney was one of the hottest teams on the South Plains coming into 4-2A play, where they have now played back-to-back one-point games including a 45-44 win at Ralls on Tuesday.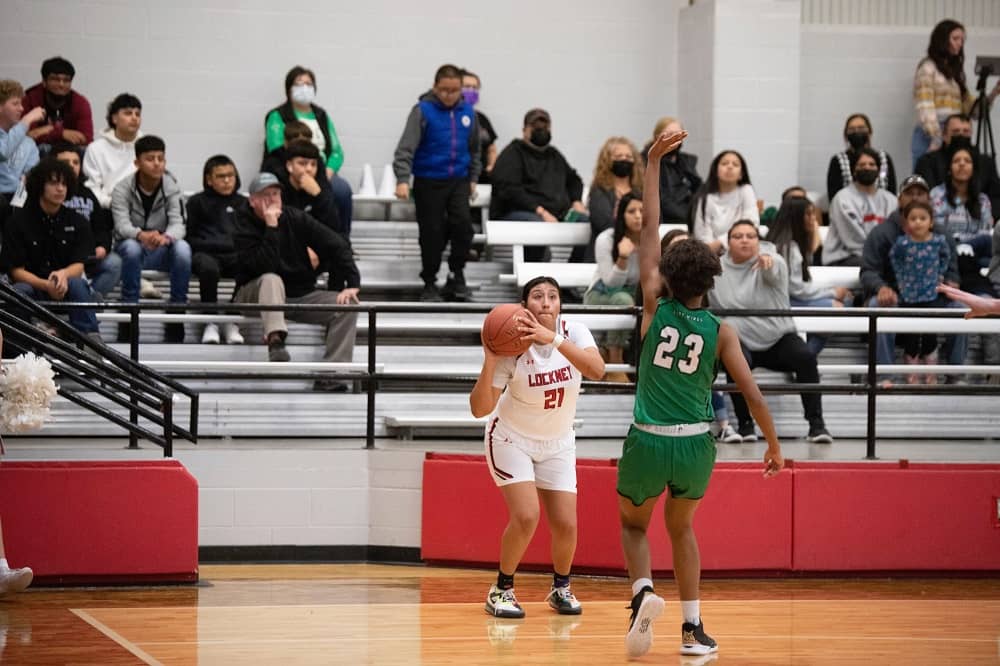 Scoring
Floydada – 8  14  17  9 – 48
Lockney – 15  6  17  9 – 47
Halftime: Floydada 22-21
Third quarter: Floydada 41-40
Records: Floydada (14-6, 1-0), Lockney (20-5, 1-1)
Floydada scoring: Erin Trevino – 13, Zay Santos – 9, Lailah Burks – 9, Sierra Snowden – 8,
Kaitlyn Ramirez – 5
Lockney scoring: Gabrielle Cervantes – 19, Adri Villarreal – 10, Mariah Ascensio – 10,
Seynada Bernal – 6, Haven Walker – 2
Floydada rebounding: Burks – 17, Snowden – 8, Trevino – 8, Santos – 6, Ramirez – 5
Lockney rebounding: Ascensio – 9, Adaliyah Jones – 7, Villarreal – 4, Walker – 4, Bernal – 4
District 4-2A Girls Results
Floydada 48, Lockney 47
New Deal 41, Ralls 22
Nazareth 79, Hale Center 30 (non-district)
District 4-2A Girls Standings and Season Records
New Deal 2-0 16-11
Floydada 1-0 14-6
Lockney 1-1 20-5
Hale Center 0-1 13-10
Ralls 0-2 3-19
District 4-2A Girls Schedule – Friday, Jan. 14
New Deal at Floydada
Hale Center at Ralls
Lockney vs. Smyer (non-district)
District 4-2A for boys will tip-off this Friday.
District 4-2A Boys Schedule – Friday, Jan. 14
New Deal (15-5) at Floydada (17-1)
Hale Center (10-9) at Ralls (15-6)
Lockney (11-6) vs. Smyer (non-district)