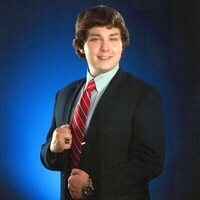 Christopher A. Lee (Plainview)
Christopher A. Lee, 25, of Plainview, passed away on February 9, 2022.  Funeral services will be held at 2:00 P.M. Tuesday, February 15, 2022, at First United Methodist Church in Plainview with Mr. Lanny Voss officiating.  Burial will follow in Plainview Memorial Park under the care of Kornerstone Funeral Directors of Plainview.
He was the grandson of Ray and Barbara Lee, former owners of Ray Lee Equipment Company in Floydada.
Christopher was born on September 25, 1996, in Lubbock to Aaron and Sheila Anderson Lee.  He grew up in Plainview and graduated from Plainview High School in 2015.  He then attended West Texas A&M University and graduated with a bachelor's degree in agricultural economics.  At the time of his passing, Christopher was pursuing his master's degree in business Administration and serving as assistant manager at Plainview Country Club.  Those who knew Christopher knew of his passion for cars and racing, and, with the enthusiastic support of Aaron, he raced his own car, SKID Row, for many years. He was known for his big heart and willingness to help and serve others. Whatever was his was yours if you needed it.
He was preceded in death by his grandfather, John C. Anderson, in 2021.
Those left to cherish Christopher's memory are his parents, Sheila Lee of Plainview and Aaron Lee of Canyon; his grandparents, Ray and Barbara Lee of Plainview and Edna Anderson of Plainview; aunts and uncles, Mike and Donna Anderson of Georgetown, Jeff and Stacy Anderson of El Paso, Mark Lee of Lubbock, DeShawna and Jamie Johnson of Halfway; cousins, Jon Anderson and Reed Anderson, both of San Angelo, Jeffrey Anderson and Matthew Anderson, both of Lubbock, Katelyn Johnson Garcia of Plainview, Meagan Lee of The Woodlands, Corbin Lee of Lubbock, Jace Johnson of Halfway, Dillon Johnson of Lubbock and Jared Krammer of Round Rock; adopted aunt, Adela Reyes of Plainview; and many other extended family members and friends.
The family suggests memorials to the charity of your choice in memory of Christopher.