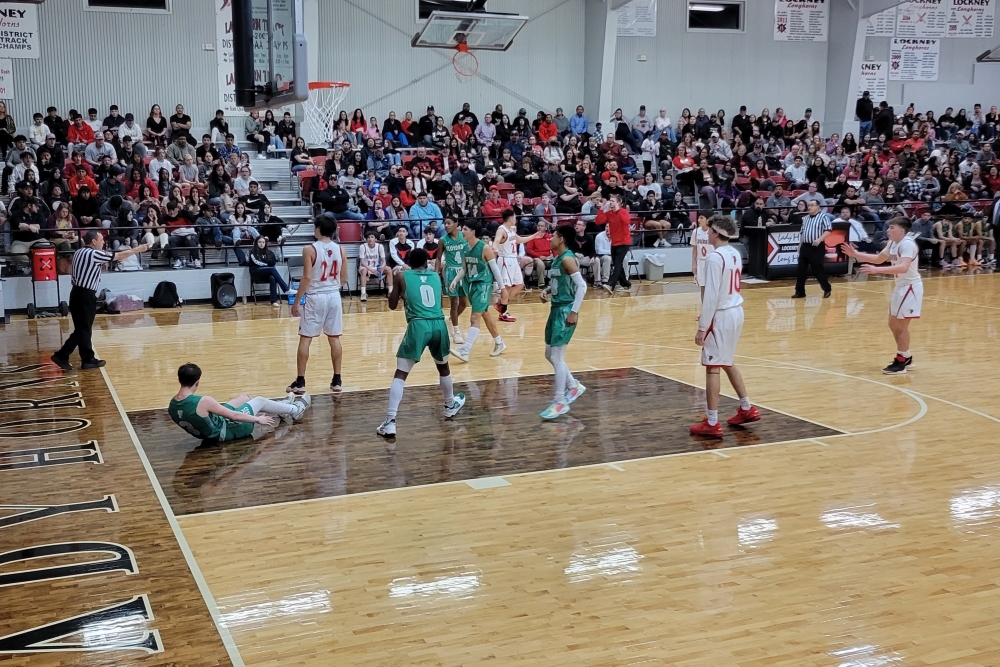 The Lockney Longhorns and Floydada Whirlwinds in action on February 15, 2022. (Tony St. James/FCR)
LOCKNEY – It does not matter if it is on a court, a field or a diamond – nor whether its is in September, January, February, March or April – or if it's boys or girls playing – the Floydada Whirlwinds vs the Lockney Longhorns mean something. Always have the past 100-years, and there is no indication it will change in the future. There is a playoff atmosphere every time they meet.
Tuesday night at Longhorn Gym the Whirlwinds fought off the Longhorns by a score of 80-68. The victory gave Floydada (22-4, 5-3) the No. 2 seed out of the the District 4-2A boys basketball race,
while Lockney (15-11, 4-4) will be the No. 3 seed. Regardless who each school faces in the UIL Bi-District game, they will both be playoff tested because of their games on January 28 and February 15.
Lockney won the first meeting at Whirlwind Gym 67-64, and Floydada answered back winning at Lockney 80-68. I stood outside of the dressing rooms at both gyms to talk with the winning coach, and both times it was an identical outburst of celebration and elation – there was just a different color of uniform inside cheering loudly.
"We did well to respond to the challenge at hand. Our defense played very well and kept giving the momentum back to us after Lockney had it. The Whirlwinds came together to end the district race on the right side," said the relieved Floydada coach Jonathan Ramirez.
"We hit some clutch free throws tonight, especially late in the game that made a difference", explained Ramirez. The Whirlwinds were 10-of-13 at the charity stripe for the game, led by junior Abran Castillo going 5-of-6 in the fourth quarter. Ironically, Lockney had more attempts (29) at the line and sank a respectable number of 17. Lockney Senior Austin Rodriguez took more free throws than the entire Floydada team by going 10-of-14.
Rebounds were won slightly by the Longhorns 24-23. Lockney also made one more three from the arc (5-4). The defensive hustle, plays in transition, and battles in the paint were back and forth the entire game. The bottom line is that Floydada made the last spurt in a sport that is all about making timely runs.
Floydada had four players making double-figures in scoring led by freshman Braun Hobbs with 21, followed by Jayson Cooper's 18, Ty Henderson with 17, and Castillo with 12. Lockney's individual scoring looked very similar with senior Josh Barretoro's 20, Jonathan Cienfuegos put in 19, and Rodriguez contributed 14.
What is next for both teams at Bi-District:
Floydada (22-4) vs Farwell (23-7) at Wildcat Gym in Littlefield next Tuesday with a 6pm tip-off.
Lockney (15-11) vs Vega (14-13) will be at Muleshoe Tuesday with a 6:15pm tip.
FLOYDADA – 17 23 17 23 – 80
LOCKNEY – 16 19 17 16 – 68
halftime: Floydada 40-35
Floydada scoring:
Braun Hobbs – 21
Jayson Cooper – 18
Ty Henderson – 17
Abran Castillo – 12
Luis Gonzales – 6
Saul Reyes – 4
Aiden Trevino – 2
Lockney scoring:
Josh Barretoro – 20
Jonathan Cienfuegos – 19
Austin Rodriguez – 14
Jesus Gonzales – 8
Andrew Bustillo – 3
Malaki Alvis – 2
Max Ramirez – 2
Floydada rebounding:
Hobbs – 5
Reyes – 4
Henderson – 4
Castillo – 3
Trevino – 2
Orlando Ortiz – 2
Cooper – 2
Lockney rebounding:
Cienfuegos – 8
Rodriguez – 7
Gonzales – 4
Alvis – 2
Ramirez – 2
DISTRICT 4-2A Boys final standings and season records
New Deal 8-0 24-5
Floydada 5-3 22-4
Lockney 4-4 15-11
Hale Center 2-6 12-15
Ralls 1-7 16-13
DISTRICT 3-2A Boys final standings and season records
Olton 8-0 28-3
Vega 5-3 14-13
Farwell 5-3 23-7
Bovina 1-7 4-17
Boys Ranch 1-7 4-17
Vega won a coin-flip for the No. 2 seed, making Farwell No. 3 seed.
Bovina-Boys Ranch will have a Play-In game on Friday.