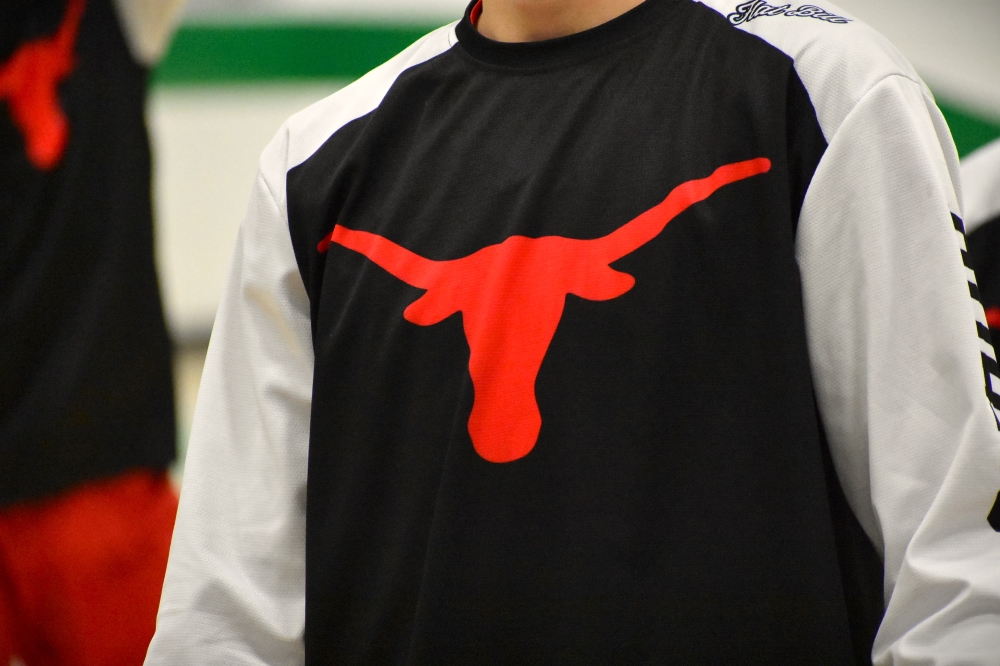 The Lockney Longhorns warming up before a 2022 basketball game. (Ryan Crowe/FCR)
MULESHOE – It was the 'Battle of the Cattle' in a 2A Boys Bi-District playoff game that the Vega Longhorns prevailed over the Lockney Longhorns 56-39 on Tuesday night.
Lockney had a good first quarter start by taking an 11-7 lead, but Vega would get things going their way and won the remaining three stanzas. The game was very much in doubt at halftime with Vega possessing a 25-22 lead.
Lockney junior Jonathan Cienfuegos played his typical scrappy style in the paint to lead the Longhorns with 13-points. Senior guard Josh Barretoros was just shy of the double-figures with nine.
Senior Ryan Grawunder paced Vega with a game high 22-points. 6'4" senior Garrett Stribling was next in Vega's scoring with eight.
Lockney (15-13) finished the season with several accomplishments of winning first place in the Lockney Shootout Tourney and a Consolation trophy at the Tahoka Tourney. The Longhorns were the third place team in the district 4-2A race. Coach Kelan Verette will say goodbye to some talented senior starters in Barretoro, Austin Rodriguez and Jesus Gonzales
Vega (15-13) will advance to the Area round to take on the No. 1 state rated Clarendon Bronchos (24-2). Clarendon is the defending 2A State Champion from 2021.
LOCKNEY – 11 11 10 7 – 39
VEGA – 7 18 14 14 – 56
hafltime: Vega 25-22
records: Lockney (15-12), Vega (15-13)
Lockney scoring: Jonathan Cienfuegos – 13, Josh Barretoro – 9
Vega scoring: Ryan Grawunder – 22, Gilbert Stribling – 8
4-2A vs 3-2A Boys Bi-District games
Vega 56 Lockney 39
Farwell 72 Floydada 59
New Deal 51 Boys Ranch 38
Olton 81 Hale Center 49