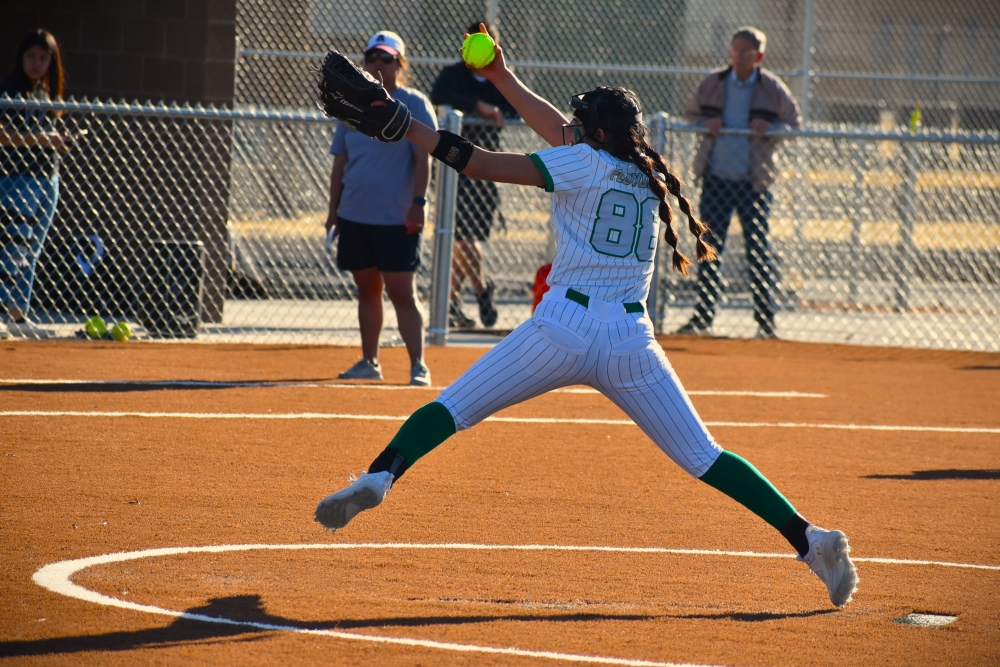 Senior Erin Trevino pitching against Abernathy at Lady Winds Field on March 1, 2022. (Ryan Crowe/FCR)
SEMINOLE – The Floydada Lady Winds (11-2-1) faced tough competition for the second straight day at the Seminole Tournament by splitting a pair of games, falling to the Coahoma Bulldogettes 8-2 and shutting out the Presidio Lady Devils 7-0.
Coahoma displayed an abundance of power by slamming four homeruns off of Floydada ace Erin Trevino. Hannah Wells, who was Coahoma's winning pitcher, helped her cause with two homeruns that resulted in four RBI. Brynn Rodgers and Avery Rodriguez contributed a solo homer each. Karleigh Burt hit a pair of doubles, and Rodriguez added a double.
Coahoma's potent offense had a total of 12-hits and scored in four innings including a jump start first inning when they took a 4-0 lead. Wells was equally effective pitching by giving up two runs on two hits with seven strikeouts.
Floydada scored its two runs off Coahoma in the third inning with a two RBI single by Analise Perez. Perez has been Floydada's top hitter in the tournament with eight hits including a triple and double, plus nine RBI in the four games played.
In the win over Presidio, it was Floydada that had the initial surge of scoring four runs in the first inning. Perez led Floydada by going 2-3 at the plate by hitting a double and single that drove in two runs, plus she scored twice.
Trevino got the win against Presidio by hurling a one hit shutout. She had an impressive 10-strikeout performance.
GAME 1 on Friday
PRESIDIO – 0 0 0 0 0 – 0 1 0
FLOYDADA – 4 1 0 2 x – 7 10 0
WP – Erin Trevino (10-0)
record: Floydada (11-1-1)
double – Analise Perez
singles – Marissa Obregon (2), Perez (2), Carissa Fernandez, Trevino, Kaley Garza,
Celese Wickware, Soriah Wickware
RBI – Perez (2), Garza, S. Wickware
runs scored – Obregon (3), Perez (2), Fernandez, Trevino, C. Wickware, Reyna Sanchez
GAME 2 on Friday
COAHOMA – 4 2 0 1 1 – 8 12 1
FLOYDADA – 0 0 2 0 0 – 2 2 2
WP – Hannah Wells, LP – Erin Trevino (10-1)
records: Floydada (11-2-1), Coahoma (5-3)
(COAHOMA stats)
homeruns – Wells (2), Avery Rodriguez, Brynn Rodgers
doubles – Karleigh Burt (2), Rodriguez
RBI – Wells (4), Rodriguez (2), Rodgers,
(FLOYDADA stats)
double – Marissa Obregon
Singles – Analise Perez
RBI – Perez (2)
runs scored: Obregon, Perez