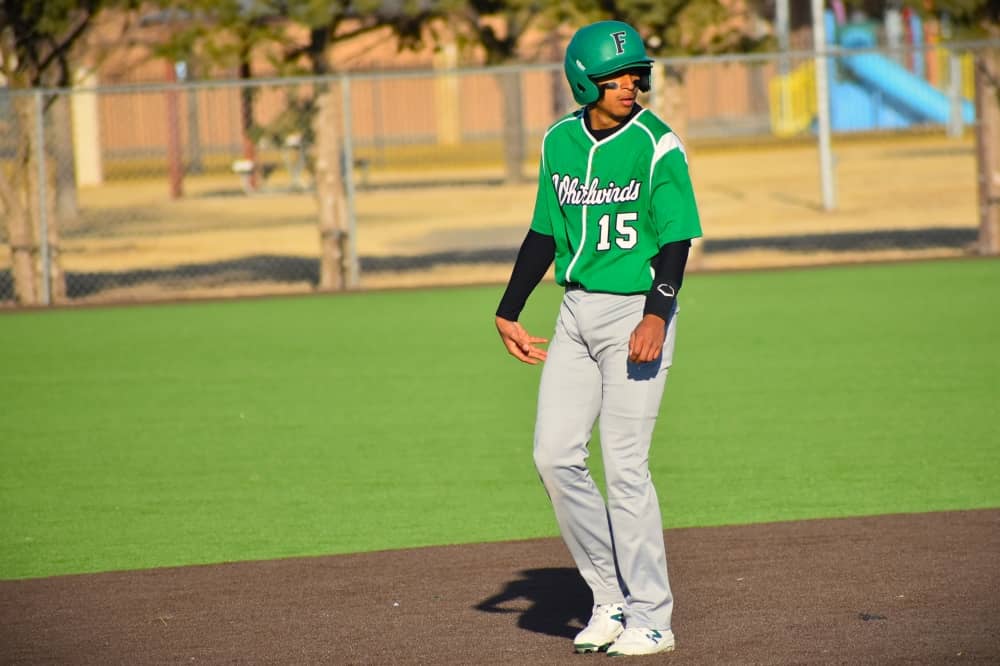 Junior Andres Mendoza on base. (Ryan Crowe/FCR)
HALE CENTER – While the fans were wrapped in blankets and multi-layers of clothing to endure the 30-35 mph north winds on Tuesday, the Floydada Whirlwinds bats were full of vigor in routing the Hale Center Owls 17-1.
Floydada (4-7, 1-2) scored in six different innings by utilizing 13-hits. Matthew Luna hit a triple and a single to produce a team high three RBI. Saul Reyes crossed home plate on four occasions to pace the Whirlwinds in scoring. Davion Ramos had three hits while four other Whirlwinds had two hit apiece – Izaiah Alvarado, Reyes, Trace Glasscock, and Andres Mendoza.
Glasscock got the pitching win by allowing one run on five hits and threw five strikeouts in five innings of work. Ramos came relieved Glasscock by throwing the final two innings and he fired four strikeouts.
The Whirlwinds will host Hale Center on Saturday morning at Watson Field to conclude the weekly two game series. First pitch will be at 11:00 a.m. 106.1 FLiP FM will have the radio broadcast.
FLOYDADA – 3 2 1 0 1 3 7 – 17 13 1
HALE CENTER – 0 1 0 0 0 0 0 – 1 3 12
WP – Trace Glasscock, LP – Jacob Ortega
records; Floydada (4-7, 1-2), Hale Center (3-7-1, 0-3)
Floydada stats;
Triple – Matthew Luna
Singles (12) – Davian Ramos (3), Andres Mendoza (2), Izaiah Alvarado (2),
Glasscock (2), Saul Reyes (2), Donovan Rocha, Luna,
RBI – Luna (3), Glasscock (2), Mendoza, Alvarado, Reyes, Rocha,
Runs scored – Reyes (4), Alvarado (2), Juan Santos (2), Rocha (2),
Luna (2), Glasscock (2), Ramos (2), Mendoza
3-2A Baseball results from Tuesday
Floydada 17 Hale Center 1
New Deal 10 Lockney 7
Ralls 9 Post 5
Olton – open
3-2A Baseball standings and season records
New Deal 3-0 7-3
Ralls 3-0 8-6
Post 2-1 3-7-1
Floydada 1-2 4-7
Lockney 0-1 7-4
Hale Center 0-3 3-7-1
Olton 0-2 0-3
3-2A Baseball schedule for Saturday
Hale Center at Floydada
New Deal at Lockney
Post at Ralls
Olton vs Petersburg (non-dist)