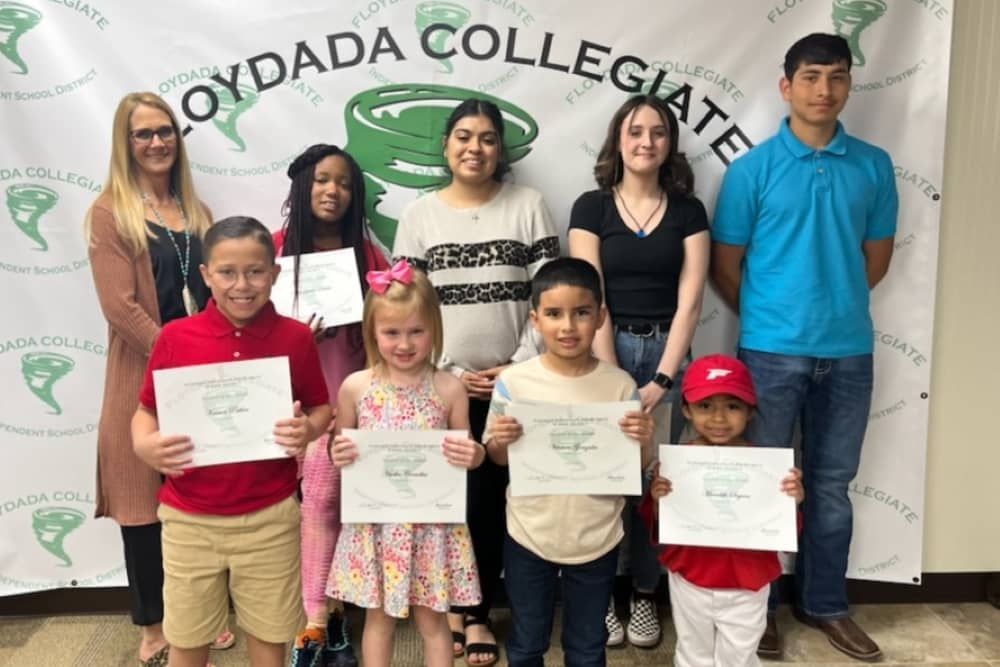 FCISD Students and Staff recognized at the April 14, 2022 board meeeting. (Sonya Glass/FCISD)
FLOYDADA – Floydada Collegiate Independent School District's Board of Trustees met Thursday night for their regularly-scheduled meeting, and recognized a number of students and staff that went above and beyond in the past month.
A.B. Duncan Elementary Principal Monica Smith recognized three Pre-Kindergarteners and two second graders this month, as well as Special Education teacher Kerrie Pitts.
The students are:
Hadlee Cornelius – Pre K
Meredith Segura – Pre K
Venturo Gonzales – Pre K
Stephanie Gonzalez – 2nd
Kaeson Patlan – 2nd
Floydada Collegiate Junior High and High School Principal Dara Ware recognized Instructional Aide Samantha Jouett as well as the following students:
Amazhjane Driver – 6th
Avrian Garza – 7th
Kylie Fipps – 10th
Jacinto Santos – 10th
The board also took the following actions during the meeting:
Approved the renewal of their partnership with Southwest Foodservice Excellence for district food service. District Superintendent Gilbert Trevino explained to the Record the proposed contract was approved by the Texas Department of Agriculture.
Approved Instructional Materials Allotment for TEKS certification. Dr. Trevino explained this is a measure by the Texas Education Agency to certify that funds received by the district are used to purchase educational materials that align with the Texas Essential Knowledge and Skills (TEKS) requirements in all subject areas.
Approved purchase of student athletics and activities accident insurance. As explained in board notes the district has partnered with Texas Kids First for several years for athletics and other district activities insurance. The premium cost for 2022 is $28,810. The district entered into a 3-year agreement with the understanding any premium increases will not go over 10 percent of the current price.
Approved budget amendments. The amendments were to add cafeteria grant revenue (see above), reimburse the TEA for unused Special Education funds, and agree to expenditures on the refurbishment of Watson Field. According to Dr. Trevino the amendments did not have an impact on the budget's bottom line.
Approved employment of paraprofessional personnel and auxiliary staff for the 2022-2023 school year.
Approved the Minutes from the March 24 regular board meeting. They also approved minutes from the March 31 special called meeting for board training, including presenting the announcement of training hours for board members.
The board set their next meeting date for May 10 at 7:00 p.m. before adjourning for the evening.