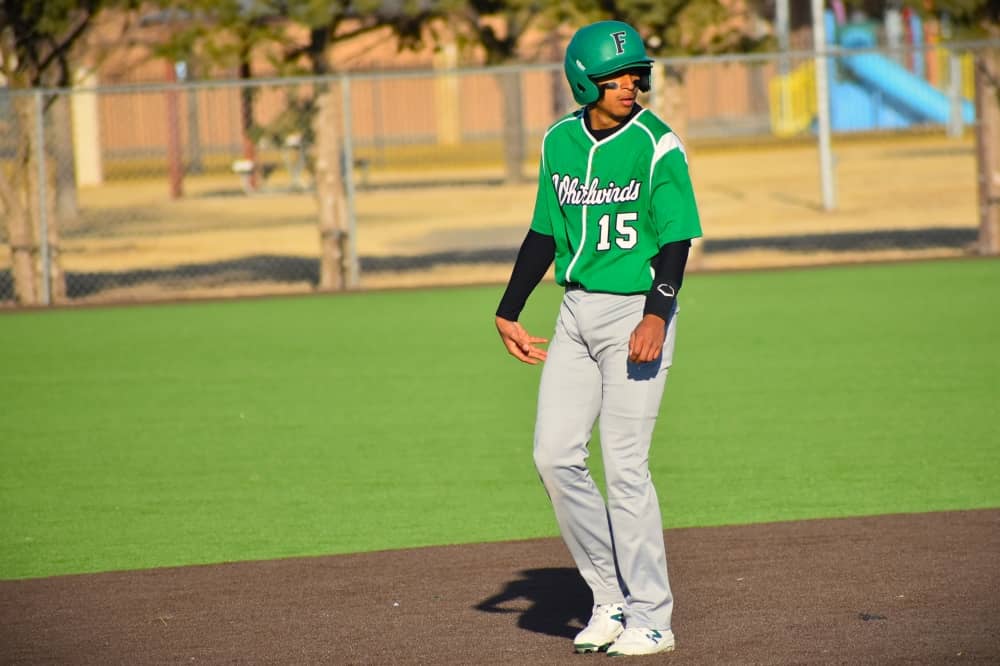 Junior Andres Mendoza on base. (Ryan Crowe/FCR)
RALLS – The Ralls Jackrabbits did just enough to squeeze out a 5-1 win over the Floydada Whirlwinds on Tuesday at Dag Azam Field. Ralls maintains second place in the 3-2A baseball standings, while Floydada is still holding on to its playoff hopes in fourth place.
The Jackrabbits scored in three different innings highlighted by a three run tally in the bottom of the third inning. Floydada loaded the bases in two separate innings and came away emptied handed each time as they struggled to get a timely hit.
Saul Reyes and Juan Gonzales each had one single for Floydada. Donovan Rocha suffered a disappointing loss on the mound by giving up four hits, two walks and recorded seven strikeouts.
Floydada and Ralls will play Game 2 of their 3-2A series on Friday at Watson Field. First pitch will be at 5:00 p.m. 106.1 FLiP FM will have the radio broadcast.
FLOYDADA – 1 0 0 0 0 0 0 – 1 2 4
RALLS – 1 0 3 1 0 0 0 – 5 4 3
WP – Bartlett, LP – Donvovan Rocha
records: Ralls (13-8, 8-1), Floydada (8-11, 5-6)
singles – Saul Reyes, Juan Gonzales
run scored – Andres Mendoza
3-2A Baseball results – Tuesday
Ralls 5 Floydada 1
Lockney 9 Post 8
Hale Center 9 Olton 7
New Deal 18 Petersburg 0 (non-dist)
DIST 3-2A Baseball standings and season records
New Deal 9-1 14-4
Ralls 8-1 13-8
Lockney 6-3 13-6
Floydada 5-6 8-11
Post 3-6 4-12-1
Hale Center 3-6 5-10-1
Olton 0-9 0-10
3-2A Baseball schedule for Friday-Saturday
Ralls at Floydada
Post at Lockney
Hale Center at Olton
New Deal at Crosbyton (non-dist)