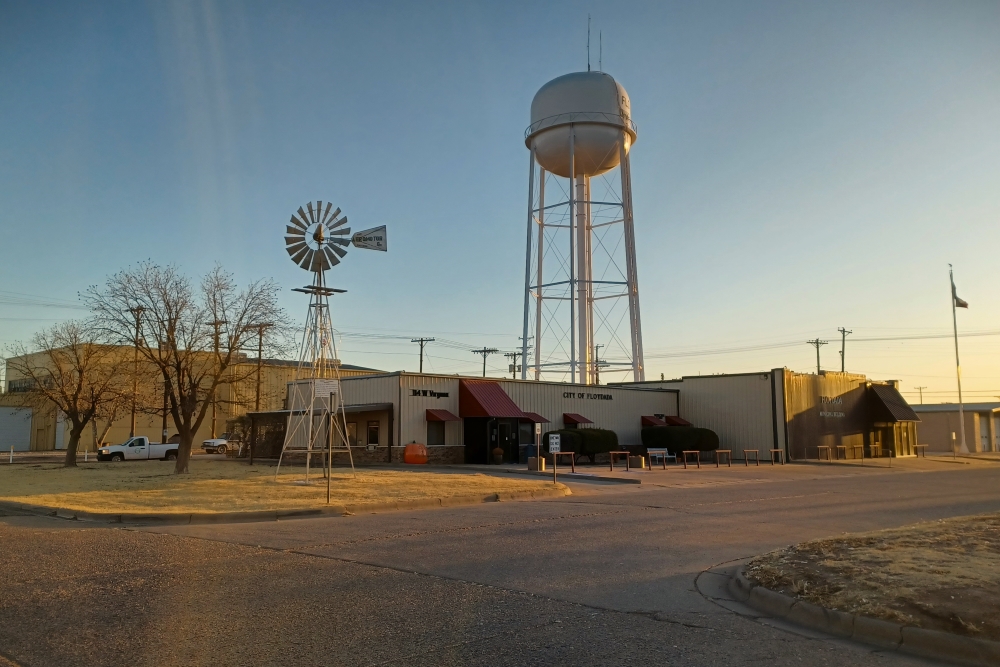 Floydada City Hall at sunrise. (Ryan Crowe/FCR)
FLOYDADA – "Everything just hit."
That's how Floydada City Manager Darrell Gooch described the rising costs the city is facing with trash service from South Plains Waste Service. The company set their services with the city when fuel costs were nearly $1.50 less than current prices. Now that gas has remained at increase rates, the city faces the need to best figure out how to pay those increases.
Floydada City Council members had to reluctantly agree to increase individual rates for trash pickup Tuesday morning.
According to city officials, the average each customer pays for trash pickup is just under $26. The increase is expected to come in at about $2 per month, meaning residents will pay closer to $28.
"The fuel costs are going through the roof," Gooch sighed as the city approved the rate hike.
Those costs increases and inflation are having an impact elsewhere across the city. Gooch brought up the idea of giving small cost of living increases to approximately 25 city employees before the next city budget in the fall. Council member Steve Lloyd suggested Gooch put together a proposal for the council to vote on during the May meeting.
The final part of Tuesday morning's meeting was an update on the city's water storage tank project. Once ARPA money is factored in, the city will have $1.3 Million to work with on the project, but as has been the theme, Gooch said the project engineer is waiting on the tank manufacturer to establish what the new costs for the tanks would be. Gooch also said the cost of new TCEQ water supply requirements to have water available for a minimum of 24 hours following a power outage would be wrapped into the water tank plan.