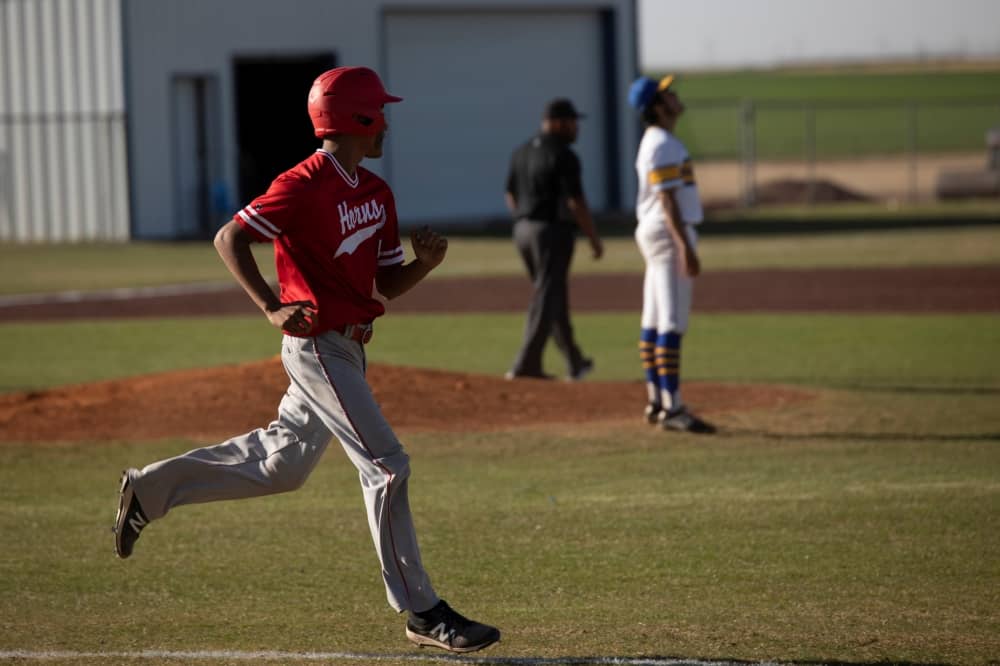 The Lockney Longhorns in action at Hale Center on April 8, 2022 (Cervantes Photography/Used with permission)
RALLS – The Ralls Jackrabbits and Lockney Longhorns understood what was on the line going into the final game of District 3-2A play and both teams left it on the field with Ralls taking a 15-14 extra inning nail-biting win a Dag Azam Field on Friday. The win gave Ralls (15-9, 10-2) the No. 2 seed for the baseball playoffs, while Lockney (15-7, 8-4) takes the No. 3 position from 3-2A. Both teams should be a tough draw on the 2A playoff bracket.
The game saw three ties and three lead exchanges before Ralls pulled it out in the bottom of the 8th inning with a sacrifice fly by Cason Laminack to give the Jackrabbits a walk-off win.
Lockney jumped out to a 4-0 lead in the top of the first inning and held a slim 6-5 advantage after three. Ralls had a big fourth inning with six runs to put them in front 11-6. Both teams continued to score with the Longhorns battling back in the sixth frame with five runs to tie it up at 12-12.
Each team scored a pair of runs in the seventh inning to send the game to an extra inning with a 14-14 deadlock. Ralls then had the final spurt by scoring one run in the bottom for the victory.
It was a great regular season finale series with Lockney winning Game 1 on Tuesday 7-6 at Longhorn Field.
Lockney outhit Ralls 10-9 led by Josh Jimenez going 3-4 with two RBI, Dyllan Thiebaud and Morris Salas both went 2-4 with two RBI apiece, while Maliki Alvis was 2-6 at the plate. Ralls best production came from Luke Ovalle going 3-5 with two RBI, and Gunner Hitt was 2-3 with three RBI.
Ropes and Sundown are tied for second place in the 4-2A baseball race. Lockney will play the winner of that seeding game in Bi-District, while Ralls will take on the loser in their first round of the playoffs next week.
LOCKNEY – 4 1 1 0 1 5 2 0 – 14 10 11
RALLS – 1 2 2 6 1 0 2 1 – 15 9 9
WP – Steven Salazar, LP – Pablo Morales (2-2)
records: Lockney (15-7, 8-4), Ralls (15-9, 10-2)
Triples – (LOCK) Nathan Cineceros, (RALLS) Gunnter Hitt
Doubles – (LOCK) Josh Jimenez, (RALLS) Luke Ovalle, Ryno Garcia
DIST 3-2A Baseball standings
New Deal 11-1 17-4 (Dist Champs)
Ralls 10-2 15-9 (#2 seed)
Lockney 8-4 15-7 (#3 seed)
Floydada 5-7 8-12-1
Post 5-7 6-14-1
Hale Center 3-9 7-12-1
Olton 0-12 0-13
3-2A Playoff Play-In game
Floydada vs Post for the #4 seed, Monday 5pm, at Abernathy
4-2A Top Four teams
New Home 12-0 22-2 (Dist Champs)
Ropes 9-3 13-10 (tied for #2 seed)
Sundown 9-3 11-3 (tied for #2 seed)
Smyer 7-5 8-10 (#4 seed)