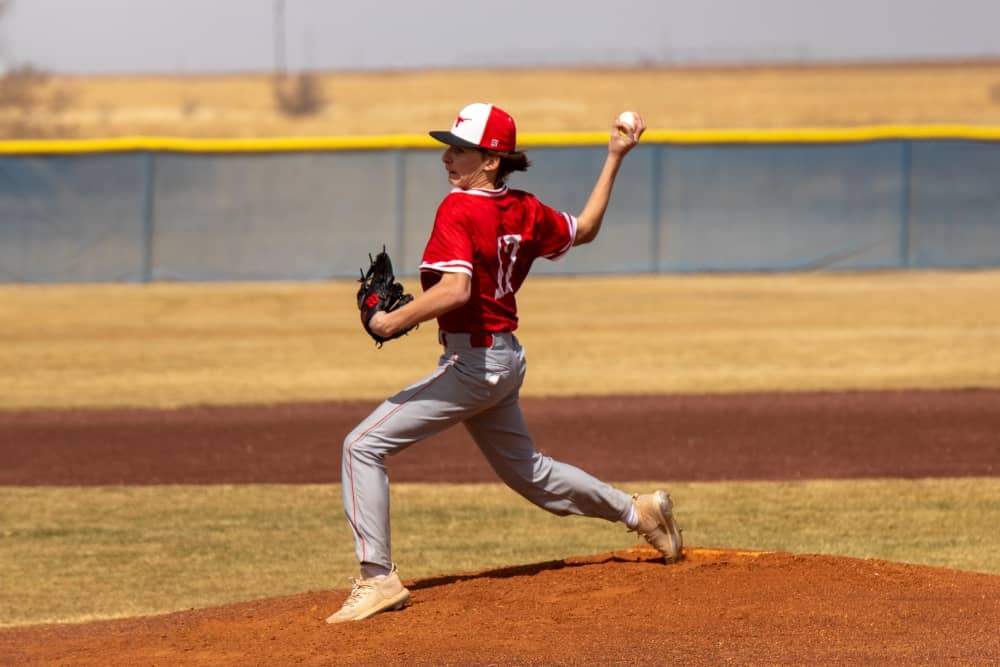 Dyllan Thiebaud of the Lockney Longhorns. (Cervantes Photography/Used with Permission)
ABERNATHY – The Lockney Longhorns have the most significant component to be a strong baseball playoff contender – pitching depth.
Lockney (16-6) and the Ropes Eagles (14-10) will open their best-of-three 2A Bi-District series on Friday 6:00 p.m. at Antelope Field in Abernathy. Game 2 will be Saturday at 11:00 a.m., with Game 3 to follow if needed. Tickets will be $3 for adults and $2 for students.
Lockney is the No. seed from 3-2A, while Ropes is the runner-up from 4-2A.
Lockney dealt with some injuries to pitchers this season in seniors Pablo Morales (2-2) and Josh Jimenez (3-1) being out for approximately three weeks. In hindsight, the Longhorns handled the adversity very well with freshman Dyllan Thiebaud (7-2) and senior Austin Rodriguez (3-0) given extra work load and development. Now the entire quartet of hurlers are healthy and give the Longhorns quality depth on the mound.
Lockney has ample fire power on their batting lineup led by Nathan Cineceros with 5 home runs, 29-RBI and has scored 36-runs. Morales has seven triples with 24-RBI and 31-runs. Rodriguez has slapped eight doubles for 20-RBI and scored 33-runs. Plus, Thiebaud has hit six doubles for 16-RBI and crossed home plate 22-times.
Josh Jimenez and Thiebaud have the highest batting averages of .462; followed by Morales at .449, Cineceros with a .409, and Rodriguez with .389. The team batting average is .346. The most important team stat is the Horns out scoring their opponents 11-6.
The winner of the Lockney-Ropes series will play the winner of the Gruver-Shamrock Bi-District matchup.
Other 3-2A vs 4-2A Bi-district Games
New Deal 17-4 vs Smyer 8-10 (home and home)
Ralls 15-9 vs Sundown 11-8 (at Ralls)
Post 7-14 vs New Home 23-2 (at Lamesa)