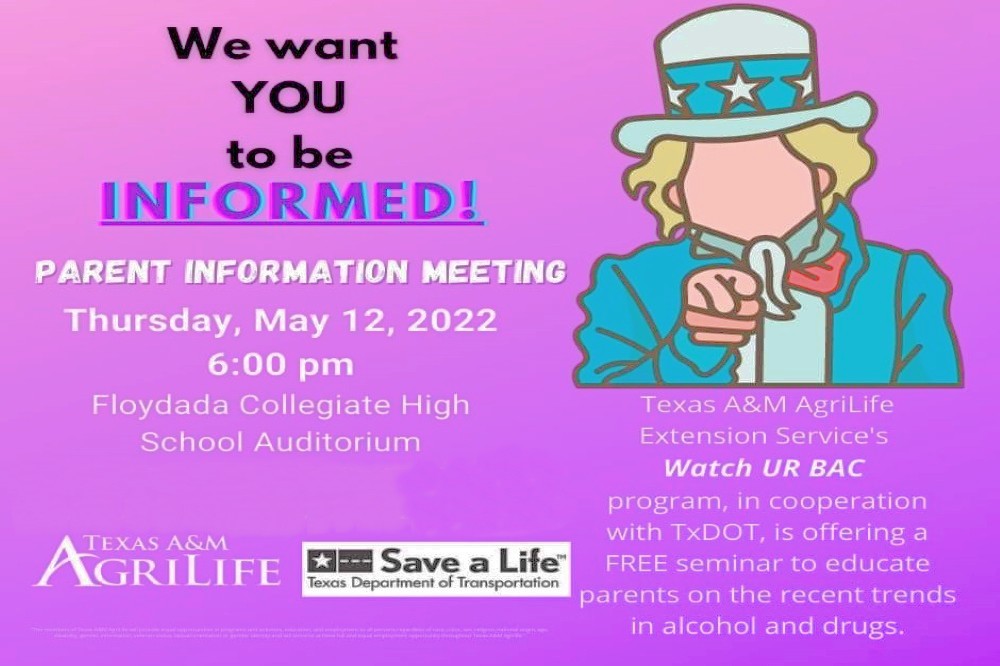 FLOYDADA – As a parent, would know know what to look for when it comes to your student using drugs or alcohol?
The Floyd County Texas A&M AgriLife Extension Office wants to make sure all parents are aware of current trends and warning signs in an informational meeting Thursday night at 6:00 at Floydada Collegiate High School's auditorium.
According to AgriLife the program, known as Watch UR BAC, is a joint effort with TxDOT's Save a Life campaign and is a free one-hour seminar for adults.
AgriLife says the program is not limited to high school parents, but is open to any parent in the Floyd County community. Children are specifically discouraged from attending as the meetings are meant for adults.
The Watch UR BAC program is taking place in conjunction with Friday's presentation to Floydada and Lockney high school students at the Floyd County Friends Unity Center. That event, targeted at Juniors and Seniors, will include a DWI simulator and a testimonial from Sean Carter. Carter, a former Midwestern State University student, was injured in a 2005 DWI crash that left him paralyzed and unable to speak without the assistance of a computerized program.