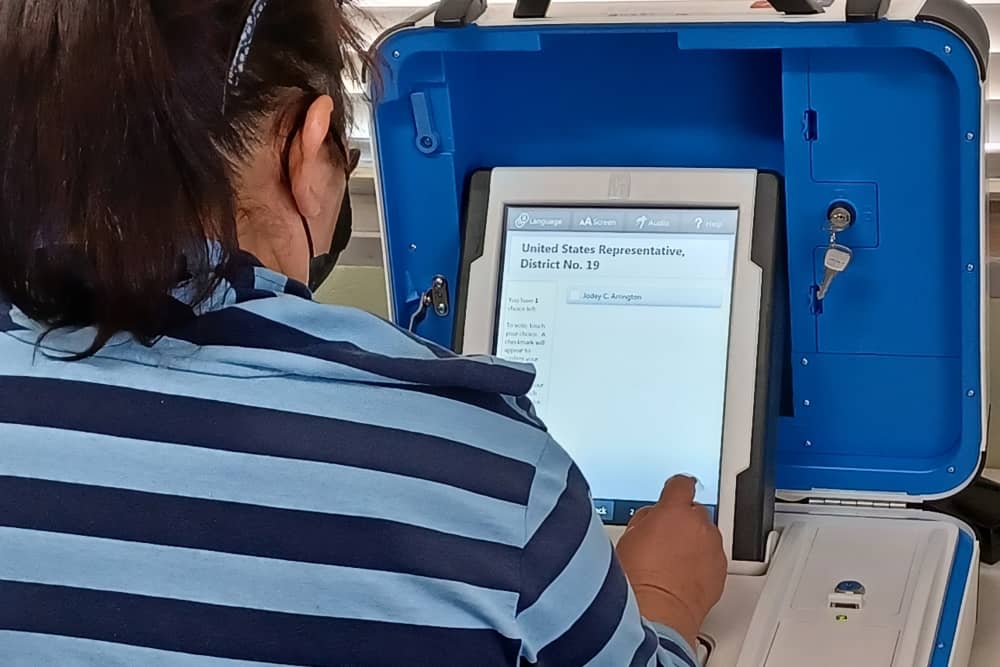 Assistant Floyd County Clerk Marivel Esquivel tests voting equipment on February 11, 2022 at the Floyd County Courthouse. (Ryan Crowe/FCR)
FLOYD COUNTY – While there are not a lot of races on the ballot in Floyd County that still needing deciding, Republicans and Democrats can head to the polls this week to vote in runoff elections for their parties.
The runoffs were set in place after no candidate received the majority of votes in the March 1 primary, compelling the top 2 vote-getters into the runoff.
Early voting for the runoff, officially listed as the May 24 Runoff Election, opened Monday morning at the Floyd County Courthouse Annex in Floydada and the First United Methodist Church of Lockney. Both locations will remain open from 8:00 a.m. to 5:30 p.m. through Friday, May 20. On May 24 the polls will be open from 7:00 a.m. to 7:00 p.m.
Those voting by mail must have their ballots received by May 24.
According to County Clerk Ginger Morgan, Floyd County voters can check their boxes in the following races:
Democratic Primary
Lieutenant Governor
Michelle Beckley
Mike Collier
Attorney General
Rochelle Mercedes Garza
Joe Jaworkski
Comptroller of Public Accounts
Janet T. Dudding
Angel Luis Vega
Commissioner of the General Land Office
Jay Kleberg
Sandragrace Martinez
Republican Primary
Attorney General
George P. Bush
Ken Paxton
Commissioner of the General Land Office
Dawn Buckingham
Tim Westley
Railroad Commissioner
Wayne Christian
Sarah Stogner