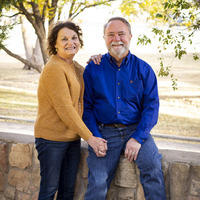 Chris & Jane Cummings (Plainview)
Celebration of life services for Chris and Jane Cummings, both 62, will be at 2:00 P.M. Monday at the Garland Street Church of Christ. A visitation will be held on Sunday afternoon from 4 to 6 P.M. at Kornerstone Funeral Directors of Plainview.
Chris and Jane Cummings of Hale Center passed away unexpectedly in a flooding accident while living their best life, at their favorite place on earth, Ganny's Log Cabin, on July 21, 2022.
Chris Cummings was born on January 23, 1960, in Plainview, TX, to Jimmy and Mary Kay Cummings. Chris's elementary years were spent in Plainview, and he was a high school graduate of Hale Center in 1978. Chris was an active member of 4-H. He won many awards for his journey through 4-H. He passed his love for lamb stock shows to his children. After graduation, Chris farmed for many years with his dad and father-in-law. At one point, he held four different jobs to provide for his family. Chris was the current branch manager at Helena Chemical in Lockney. He built a great business with his core value: KISS: keep it simple stupid. He valued his employees. He treated them like family. He worked hard and was kind; the team's business grew. Chris gave much of his time to his community. He served on the Hale Center school board for six years. He and his wife Jane always enjoyed the school board conventions. He was also a deacon of the Hale Center Church of Christ. He loved the youth, where he taught numerous Sunday bible classes and hosted youth events and youth trips. Chris was a current Farm Bureau member, serving as President and in other officer roles. He enjoyed the men and women of this group. Most of all, he enjoyed the trips he and his wife Jane would take with the group. Oh, the stories they could tell.
Jane Cummings was born on January 10, 1960, to Wayne and Betty Greenhaw in Plainview, TX. Jane grew up in Cotton Center and graduated in 1978. She treasured the many lessons from Mrs. McKluskey Home-EC class. Jane was a wonderful cook and seamstress. She attended Lubbock Christian University for one semester before she earned her M. R. S. Degree. She stayed home and raised her children while they were young. She valued those precious fleeting moments while her children were young and home. Jane was the top choice on the substitute teacher list in Hale Center before she came on full-time as a 5th -6th-grade math teacher. Don't mess with Mrs. Cummings when the crab is on the desk! Jane was an active member in the Hale Center Church of Christ, where she directed or helped with Vacation Bible School (VBS). She gave her love for VBS to her children and grandchildren. Jane had a gift for decorating. She helped her daughter and daughter-in-law always set up their classrooms at Plainview Christian Academy. She had an eye for detail and always transformed her home into a Christmas village for family and friends to enjoy. Chris and Jane were married on August 11, 1979, in Hale Center; they would have been married almost 43 years. They demonstrated daily a marriage of unconditional love and sacrifice. They lived in their home for 40 years. Anyone and everyone were welcomed into their home. Many of their children's classmates, college friends, and Blue Haven friends have crossed the threshold of their home. They truly were overfilled with joy when their children and grandchildren would fill their home with laughter and love.
Their children, Brad Cummings, Michelle (Cummings) Post, and Tyrell Johnson, were their shining stars. Brad Cummings brought along their first grandchild, Brice Cummings (15), and they experienced a new form of abounding love. They treasured nothing more than earning the titles of Naenee and Pop. Michelle and her husband Steve brought in two more grand boys, Colt (10) and Cade (6). Finally, Brad and his wife Jamie brought in Harper Grace (4), the sweet little princess of the family. They filled their calendars with grandkid events. They were in attendance for all band, sports, or graduation events. Chris and Jane heard God's calling and brought their youngest son Tyrell Johnson to raise as their own in June 2010. They love and support him in all endeavors. Chris and Jane valued family. They would brag about how proud they were that their children were best friends. They valued family time. Technology must be put away. They lived a simple life at home but always dreamt of their next family travel destination. Alaska was a favorite place; they were blessed to visit thrice. They have traveled to numerous states and even experienced the Holy Land with Betty Greenhaw. Most of all, they enjoyed every trip to Camp Blue Haven to stay at Ganny's log cabin. All three of their children gave their lives to Christ at Camp Blue Haven.
Chris and Jane loved big. They gave graciously to everyone in need. They both experienced their health ailments but would live to serve others first, regardless of pain or discomfort. They leave an amazing legacy and example for their children, grandchildren, family, and community.
Their pride and joy included their children, Brad and Jamie Cummings of Hale Center, Michelle (Cummings) and Steve Post of Plainview, Tyrell of Edmond OK, and their four grandchildren, Brice Cummings, Colt and Cade Post, and Harper Cummings. In addition, Chris leaves behind his eldest sister Rene'e and Ricky Hrbacek of Lockney; his youngest sister Donna and Barney Bill McCarter of Lockney.
Jane leaves behind her eldest brother Jerald Greenhaw of Plainview, sister Gail and Jonny Hutson of Lubbock, and brother Greg and wife Angela of Sundown.
Contributions can be made to Plainview Christian Academy 310 S Ennis Plainview, TX 79072 and Camp Blue Haven 62 Camp S Street, Las Vegas, NM 87701.