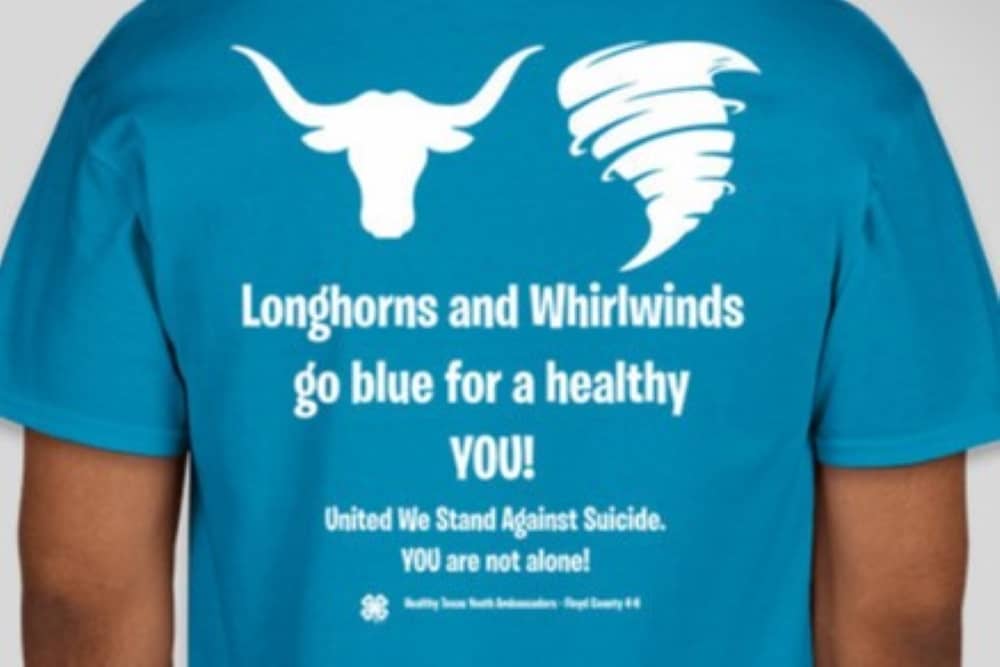 FLOYD COUNTY – Floyd County's storied rivalry will be fought on the football field next month with one team in red, the other green. If two 4-H girls have their way, the fans will all be in blue.
Lockney's Kaleigh Cook and Floydada's Mia Snowden are both sophomores, both trainers for their respective football teams and are the county's Healthy Texas Youth Ambassadors. While hanging out together this summer they hatched a plan to raise awareness for suicide prevention.
"Not very many people want to talk about it," says Snowden. "It's a very touchy subject," adds Cook, "But it's something that we need to bring awareness to."
September is national suicide awareness month, and the pair knew that message of awareness could have a larger impact coming from them than from adults. "This is something bigger than a football game that we can come together for," says Cook.
Their plan? Turn the stadium blue – specifically a shade of light blue that is the official color of awareness. "We're calling it 'Go Blue for a Healthy You,' and T-shirt sales goes toward speakers on the subject at the school," explains Snowden. 4-H will also have a booth at game with bracelets and pom-poms that fans can purchase.
They are hoping to raise enough money to fund speakers at the schools, and Snowden says getting the idea past school administration was an easy sell. "I think it's because everything was thought out and planned."
Cook says she jokingly received some pushback, but met it head "I was asked 'Do you really think people will put down green and red for this?' Well, we're gonna try!"
The Floyd County 4-H has set up a Custom Ink site where you can order a shirt. For more information, or to place an order, CLICK HERE.