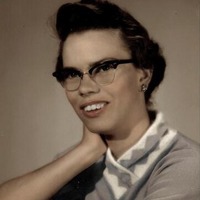 Ersie Starkey Van Cleve (Dougherty)
Ersie Starkey Van Cleve of Dougherty, Texas, passed away on Monday, September 12, 2022. A graveside service will be held at 2:00 p.m., Thursday, September 15, 2022, at the Dougherty Cemetery, with Mark Snowden officiating. Open visitation will occur from 9:00 a.m. – 8:00 p.m., Wednesday, September 14, 2022, at Moore-Rose Funeral Home in Floydada. Arrangements are under the personal care of Moore-Rose Funeral Home in Floydada.
Ersie was born on February 18, 1940, in Floyd County, Texas, to Charlie Washington Starkey and Mary Bessie Malone.
She is preceded in death by her husband, Billy Van Cleve, parents; Charlie and Mary Malone Starkey, four sisters, and three brothers.
Those left to cherish her memory are her daughters; Shelly Martinez and Kelly Van Cleve, five grandchildren and nine great-grandchildren, one brother, L.T Starkey, and three sisters; Nola Long, Bobbie Hannah, and Phillis Gladys.