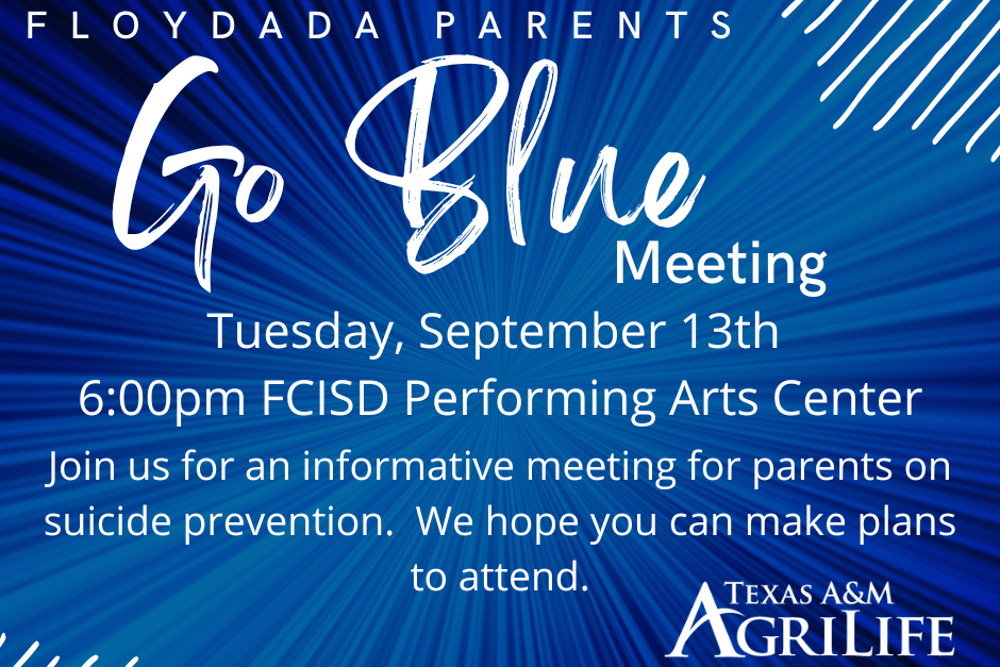 FLOYD COUNTY – September is Suicide Prevention Awareness Month, and Floyd County's AgriLife Extension Office is continuing their work to raise that awareness.
Tuesday evening they are inviting Floydada parents to the FCHS Auditorium for a meeting featuring Carrie Jones, a counselor who spoke with Floydada and Lockney students earlier in the month as part of the "Go Blue for a Healthy You" project.
MORE: 4-H asking fans to go blue for Floyd County Championship
"She will be talking about the same topic she did with the kids," AgriLife Family and Community Health agent Natalie Snowden said. "This event is more geared toward parents so they know how to react if their child tells them they're having thoughts or feelings of harm so that they can guide them on steps they can take."
Snowden said parents of children in all grade levels are invited, but much of the discussion will be for older students. "We want kids to know 'your life matters' and we want parents to know there are resources out there to help their children."
Texas A&M AgriLife will also hold the meeting with Mrs. Jones at Lockney High School. That meeting will take place on Monday, September 19 at 6:00 p.m. at the Lockney High School Auditorium.