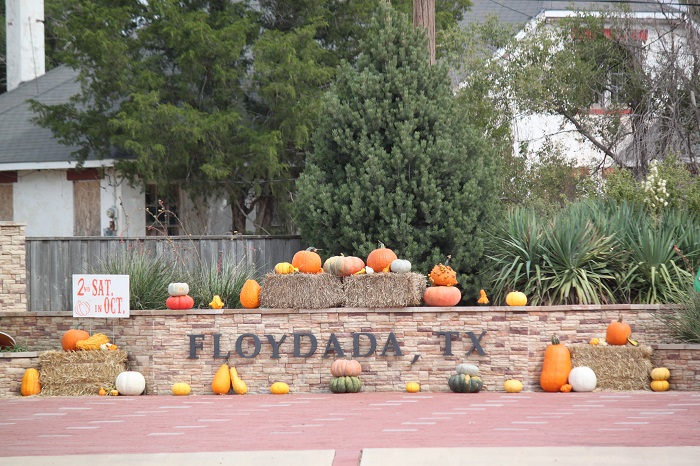 Décor provided by Pumpkin Pyle adorns the Floydada Welcome Plaza ahead of Punkin Days on Oct. 9, 2021. (Alex Driggars/Floyd County Record)
FLOYDADA, TX – Floydada Chamber of Commerce & Agriculture members learned about grants, small business finance, and marketing best practices at an educational event held on Thursday, March 2, 2023, at the Massie Activity Center in Floydada. Twelve members attended the training hosted by Chamber Manager Isaac Martinez.
"We hope to host training events like this several times a year," Martinez said. He shared various options and links for small business grants ranging from local to international. While competition is fierce for most grants, Martinez noted, "You miss 100% of the shots you don't take."
Obtaining a grant would mean more capital investment in the local economy.
"We work closely with the Rural Business Opportunity Program and other resource providers in an effort to bring local networking and educational experiences to our businesses and raise revenue," Martinez said. "We want to see our small businesses succeed so they can hopefully provide more jobs and opportunity right here in Floydada," he said. "We want to keep the money flowing through Floydada instead of elsewhere."
Guest speaker Brandy Reed, a business field advisor with the Rural Business Opportunity Program and the Small Business Development Center at Texas Tech University-Lubbock, stressed that the most important factor in managing a business was "knowing the numbers."
"You're in business to make money, right?" Reed said. "The first step to getting to know your numbers is understanding the terminology and what the numbers actually mean." Reed shared information regarding how to read a balance sheet and what counted as assets, liabilities, and equity.
"The balance sheet is the foundation of managing your finances. It provides a snapshot of your business financials, helps you keep track of your capital, and provides a cash flow projection for future years," Reed said.
Reed also explained the differences between "cash accounting" and "accrual accounting" methods and demonstrated how to use cost-benefit analysis to add revenue streams.
"These concepts are just a few of the things business owners need to know to get on top of their numbers so they can stay in business or grow," Reed said. "We provide a variety of training and counseling services through our Small Business Development Center (SBDC) that benefit business owners," she said. Services provided by the SBDC include writing business plans, assisting with acquiring financing or capital, business accounting and budgets, cash flow management, and tax planning.
Reed also shared how business owners could manage their brand and customer interactions to improve their business.
"There are several 'free' or 'small fee' ways to market your business, and the easiest one we recommend is securing your business profiles on search engines like Google and Bing," she said. "Getting control of your business profile is very important when managing how you appear on searches even if you don't sell anything online."
Handouts outlining the steps to set up business profiles on Google and Bing were given to the chamber members at the training. Reed said the SBDC frequently hosts training events on how to get set up with a business profile on Google Search and Maps and other ways to use Google tools for small businesses.
For more information about how to be involved in the Floydada Chamber of Commerce & Agriculture and attend future training events, contact Isaac Martinez at (806) 983-3434.
For more local business resources or to start a business in Floydada, contact Ryan Crowe, Executive Director of the Floydada Economic Development Corporation, at (806) 983-4405 or email director@floydadaedc.com.