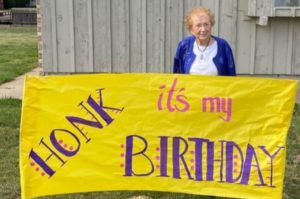 LOCKNEY — Lucy Dean Record, a lifelong Lockneyite and beloved local musician, is celebrating her 97th birthday on Tuesday.
Record was born on June 1, 1924 in Lockney to Carmillus H. and Mary Ida Rose. She began playing the piano at age four and by age seven was playing the organ at First United Methodist Church of Lockney — which she is still doing 90 years later. Record has been teaching piano in Lockney for the better part of the last century and spends her nights and weekends playing western swing music with her band. Record estimates that she has taught more pupils piano than the entire population of Lockney. Record also served in the U.S. Army Air Corps during World War II and is the Lockney Longhorns' biggest fan.
Record has received many accolades over her career, including induction into multiple music halls of fame. She was featured on Texas Country Reporter in 2017 and was honored with a resolution in the Texas House of Representatives during a session in 2017.
Record will receive guests at her home, 801 W. Willow St., from 2:30 to 4:30 p.m. Tuesday.