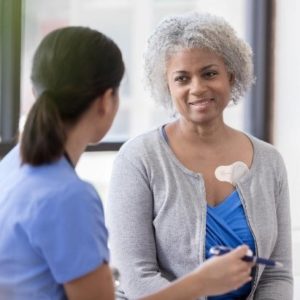 LOCKNEY — W.J. Mangold Memorial Hospital and the Cogdell Clinics in Lockney and Silverton are using Cardiac Insight, Inc.'s all-inclusive innovative wearable ECG sensors and proprietary software that automatically analyzes electrocardiogram (ECG) data to detect arrhythmias, including atrial fibrillation, often referred to as AFib. Access to this new diagnostic solution shortens time to diagnosis (7 days or less) and streamlines clinical efficacy, benefitting patients, physicians and clinicians. The eight primary care providers at the two clinics will utilize the FDA cleared technology to deliver telehealth and in-clinic access to early AFib detection and diagnosis to its patients from across the region.
AFib is the most common type of treated heart arrhythmia, with an estimated 2.7 to 6.1 million people in the U.S. living with this arrhythmia. While AFib itself is typically not life-threatening, complications from AFib if left untreated include increased risk for heart problems and heart failure, and increased risk for stroke. AFib is responsible for about one in seven strokes. Cardea SOLO™ ECG System quick detection enables care providers to immediately begin treatment.
"Implementing innovative technologies to address patient needs is the key to effective care," said Vince DiFranco, hospital CEO. "While prompt results are critical for all patients, for cardiac patients, getting a timely and accurate diagnosis could be lifesaving. This new automated software gives our providers access to instant results to begin addressing patient concerns as soon as they are detectable. The adoption of this technology is a tremendous asset to both our patients and our clinics and we are very pleased to bring this service to our community."
The Cardea SOLO wearable single-use sensor is typically applied to the patient in a hospital clinic or physician office.  After an optimal seven-day wear period, the patient removes and returns their sensor to the physician's office by mail or in person. Cardea SOLO's robust, algorithm-based ECG software produces a comprehensive report within five minutes to direct clinical decision-making reducing the overall time to diagnosis.
"We are excited to support W.J. Mangold Memorial Hospital and the Cogdell Clinics in Lockney and Silverton's efforts in enhancing patient care. Adoption of digital health is at an all-time high, as health care systems further prioritize quality care and seek out new methods and technology to provide efficient and effective care. Matching patient demand for timely, accurate results and staying cost effective for both patient and provider remain at the core of our business model as we continue to grow nationally. Our wearable ECG technology and propriety software provides instant data, eliminating outsourcing costs and unnecessary wait times which ultimately improve the quality of care by decreasing the time to overall diagnosis and treatment." said Robert Odell, Cardiac Insight President and Chief Operating Officer.