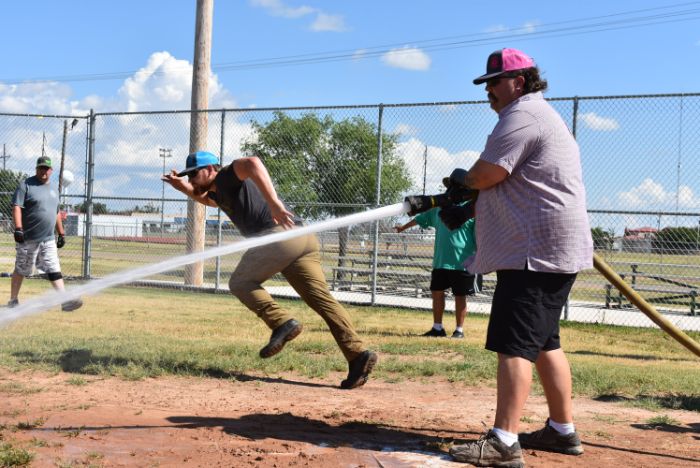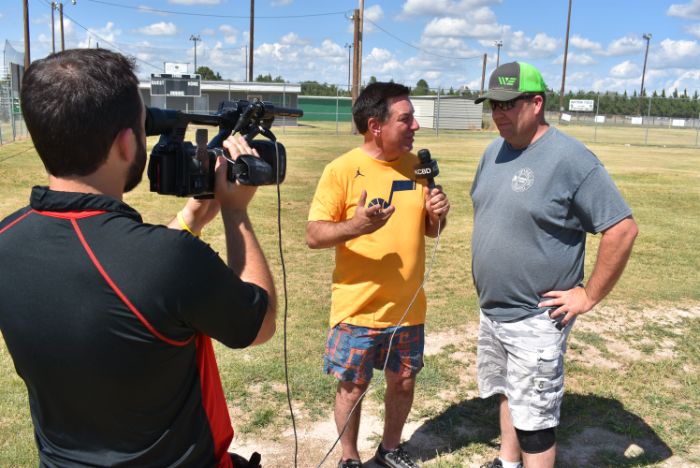 FLOYDADA — It was a fun day of Firemen's Baseball in Muddville Sunday afternoon. Pete Christy of KCBD-TV Sports and his team got a fast start on the Floydada Volunteer Fire Department by scoring five runs in the first inning and cruised to a 25-10 win on a sunny afternoon in Floydada on August 15. It marked the first time Pete had beaten the Floydada fire boys in a total of three attempts over the years of "I Beat Pete" challenges.
"I think we utilized our overall team speed and we played smart," Pete said. Our philosophy was to spray the ball to the pitchers mound where it became a very muddy place."
"My team was on fire, and the fire boys could not put it out," he added.
Floydada Lady Winds softball players Erin Trevino, Kailee Sanchez, Jazmin Coronado and Tatum Glasscock were the umpires of the game.
Following the muddy challenge, Pete and his crew were treated to a very special lunch courtesy of a local favorite.
"I love Floydada. The Dixie Dog is normally closed on Sunday, and they are reopening just for us," Pete said. "You cannot beat a deal like that!"
The I Beat Pete challenges are on the home stretch towards a total of 1,000 challenges over the last 30 years. The win over the Floydada Fire Department gave Pete 488-wins against 499-loses. Not bad for a guy who is always the underdog. Pete improved his record to 3-4 for challenges in Floydada through the years.
It is either the thrill of victory or the agony of defeat anytime a group challenges Pete. This time the Floydada fire boys had to chant in unison: "We got beat by Pete" to the KCBD camera as they were presented their I Beat Pete t-shirt in a gesture of good sportsmanship.
The exciting (and muddy) game will air on September 1, the first Wednesday of next month.
When asked what and where will challenge 987 will be, Pete answered, "I am not for sure. I am sure it will be something good, fun and different,"
Regardless what it is, Pete will put his usual spotlight on something significant for some community in the area. Thank you Pete. We appreciate your support and coverage of Floydada since the 1990s. You are a sport-tacular guy.
Roster for Pete Christy's team:
Pete Chistry – KCBD Sports Director
Keith Quigley – FBI Special Agent
Edward Standard – Verizon
Devin Ward – Lubbock ISD TV
Allen Stott – AS Dent Shop (Pete's sponsor)
LJ Wright – Pastor at First Baptist Church, New Home
Brad Merchant – Standard Supply
Floydada Fire Department roster:
Chad Guthrie, Fire Chief – Western Equipment
Harvey Garza – Floydada Collegiate ISD
Eric Rainwater – Farmer
Jeff Sullivan – Farmer
Laron Little – Western Equipment
Bradley Cunningham – Western Equipment
George Romero – Farmer
Rueben Ramon – Police Department
Randell Sims, Asst. Fire Chief – Engineer/KFLP sports broadcaster
KCBD's Pete Christy – 537 55 – 25
Floydada Fire Dept. – 101 80 – 10