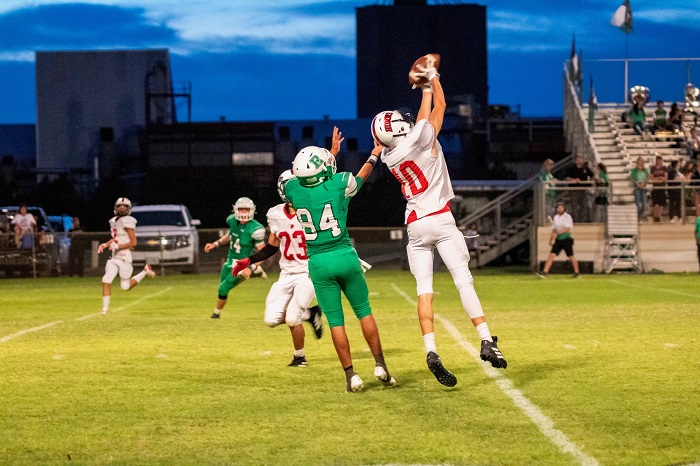 LOCKNEY — The Lockney Longhorns return to the scene of where they won the Floyd County Championship against the Floydada Whirlwinds 24-0 last Friday at Mitchell-Zimmerman. This week they host the Boys Ranch Roughriders (0-2), and the Horns (1-1) hope last week's victory ignites the beginning of a winning streak.
Lockney did a complete 180-degree turnaround after losing to Ropes 31-7 in their season opener when they had trouble getting in the end zone after controlling the clock most of the game. Last week, the Longhorns denied the Whirlwinds of scoring despite them playing ball control in the first half. But, the second half was a totally different story by capitalizing on Floydada turnovers and parlaying them into points to cruise to the shutout win.
"I sure hope this win is a springboard for us," said a happy coach Cory McCombs after his team claimed the Floyd County Championship. "That is something we definitely will talk about as we prepare for Boys Ranch."
Lockney is now showing signs of having a grind-it-out offense in their run-first spread attack. Senior running back Nathan Cineceros displayed that in the second half of the Floydada game. He ended the night with 101 yards rushing and scored a touchdown on an eight yard run. Cineceros is not a one-horse show by any stretch of the imagination, with Austin Rodriguez, Jesus Gonzales and Elias Alvarez sharing the load.
The Longhorns were glad to welcome back senior quarterback Pablo Morales into action after being out since August 13th with an injured ankle. Morales responded in big way, directing Lockney downfield on a nine-play drive that started at their 15 yard line to set up a 39-yard field goal by Josh Jimenez with three seconds remaining until halftime. The Longhorns took a 3-0 lead to the locker room and apparently a slew of momentum, which carried into the final half.
"We will not be alternating quarterbacks anymore like we did (Friday) with Morales and Austin Rodriguez," McCombs stressed.
Rodriguez did an admirable job of holding this ballclub together in Morales' absence. Rodriguez will now return to a more familiar running back position.
A big task for the Longhorns will be not overlooking Boys Ranch. The Roughriders have been defeated in their two outings by the Bovina Mustangs 29-14 and the Vega Longhorns 47-20. Vega was rated No. 10 in 2A-II state rankings at the time by Dave Campbell's Texas Football.
Boys Ranch finished 0-9 in 2020 and last place in district 1-2A-I. Lockney handed the Roughriders one of their losses last fall with an 18-0 shutout at Cal Farley's Boys Ranch.
Kickoff will be at 7 p.m. Friday at Mitchell-Zimmerman Field.
Lockney Opponents' (in caps) matchups this week:
FLOYDADA (0-2) vs. Smyer (0-2)
ROPES (2-0) vs. Menard (1-1)
ODESSA. COMPASS (0-2) vs. McCamey (1-0)
PLAINS (2-0) vs. New Home (1-1)
MEMPHIS (1-1) vs. Hale Center (1-1)
RALLS (0-2) vs. Seagraves (2-0)
ROSCOE (1-1) vs. Miles (0-2)
CROSBYTON (0-2) vs. Munday (0-2)
HAMLIN (0-2) vs. Albany (2-0)