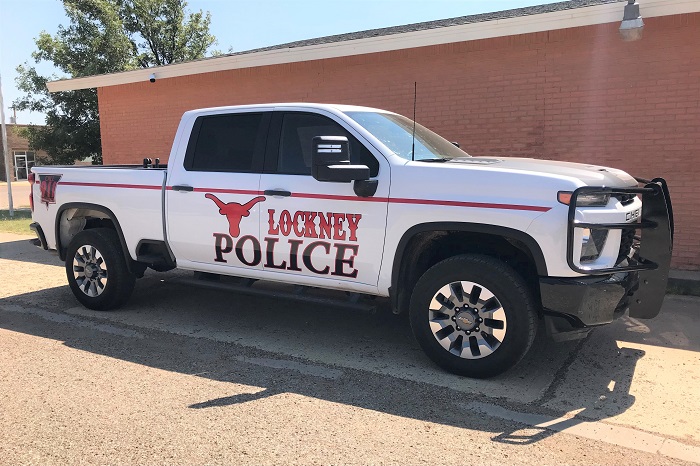 LOCKNEY — In just over a week, the Lockney Police Department will officially take over the law enforcement duties of its namesake city, and Lockney's new Chief of Police has lofty aspirations for and full confidence in his fledgling department.
Casey Fitzwater came to the helm of the newly re-established department on Aug. 20, two weeks after the City Council appointed him in a special meeting. Since then, Fitzwater has been working around the clock to prepare to patrol the town. Along with all of the standard administrative hurdles of stepping into a new job, Fitzwater has been tasked with making sure the PD is ready to launch on October 1 at midnight. This includes obtaining official recognition as a police department from the Texas Commission on Law Enforcement (TCOLE), which is the regulatory authority for policing in Texas.
"There's an application process. It's basically an outline. They ask you what facilities you're gonna have, what resources are available to your officers, the ordinances that approve the police department, the minutes that approved that ordinance," Fitzwater said. "You have to submit all those documents, so it's about a binder. It's a decent amount of paperwork."
TCOLE gave LPD its final stamp of approval last week.
Besides the regulatory approval, one of the most important steps the new chief has taken so far is to hire a staff. Besides Fitzwater, the department will have one full-time officer and up to nine reserve officers, who are volunteer peace officers that can be utilized when needed.
Fitzwater hired Alberto Sotogonzales to fill the full-time position. The now-former alderman for the City of Lockney sat on the city council from May through early September, during which time the council established the police department and hired the chief. Sotogonzales seconded and voted in favor of the motion to hire Fitzwater during an Aug. 6 special meeting. Sotogonzales resigned from the council on Sept. 7 after joining the police department.
Fitzwater says he has full faith in Sotogonzales to execute his duties well.
"I initially started my career here in Floyd County at the Sheriff's Office, and I worked with Alberto, so I trust him," Fitzwater said. "I think us as a team will be pretty effective."
The new chief acknowledges that not all Lockneyites are happy with the city's decision to change the way it is providing law enforcement and that there may be gaps at times where an officer is not on duty. Fitzwater says that he and Sotogonzales will each work 12-hour shifts five days per week. That leaves 48 hours during the week where neither is on duty. But, he's not worried about that.
"We expect that there may be a few gaps when we first start, but with those gaps, myself and the other patrol officer will definitely be on call, so we'll be here in town and we'll be able to take calls," Fitzwater said. "Then those open shifts that aren't covered, that's where those reserves should step in and fill those voids."
"I expect better services" than the city received from the Floyd County Sheriff's Office, Fitzwater said. But, he says, he intends to work closely with his county counterparts.
"I know you've probably heard some of the drama with us taking over, having a PD and all that stuff, but here's the thing — when it comes down to it, we're all police officers and we have one mission," Fitzwater said.
Besides improving the overall law enforcement coverage in Lockney, the new chief has some other big goals for the department, the most important being community policing.
"Getting back out there and letting the citizens of Lockney know we're here to help" is the number one goal of the department, Fitzwater said. "They need to see a police officer and know that they can approach us if they have any problems."
Enhanced traffic enforcement is another goal for the new force.
"We will be working the highway," Fitzwater added. "We're initially going to start off pretty — I'm not going to say that we are going to give people leeway — but we're going to start off with, 'Hey, here's a warning, we are a police department now so we will be out here enforcing stuff.' We'll kind of ease into it."
Perhaps the most ambitious goal for the department, and one that the chief hopes to implement down the road, involves the creation of a cadet program for youngsters keen on becoming a public servant.
"It's gonna be for kids ages 14 to 20 who are interested in a career in law enforcement, maybe military, fire or EMS," Fitzwater said. "They'll have a basic training program in the summer that will be about four weeks. It will be boot camp style. They'll learn criminal justice programs. We'll bring in outside agencies like the fire department, DPS, game warden, stuff like that to expose them to a law enforcement career.
"After they finish the basic training program, twice a month they'll come meet with us. We'll do additional training classes. Basically, they can stay in that program up until they're 20, and once they reach 20 and 6 months, they are eligible to go to a police academy, and we would sponsor them, being that they were in our cadet program," he explained.
This would be a unique program for the area, Fitzwater added, with the closest similar programs in the Midland and Dallas areas. He also hopes to involve other area law enforcement agencies in that program.
Fitzwater hopes that all of these plans will converge to create a department that citizens can be proud of.
"I definitely think that the citizens can have pride in having their own police department," Fitzwater said. "I fully expect that the call volume will probably go up from what the Sherriff's Office was getting here in town. That's mainly just because the citizens will have pride that this is their police department."
The City of Lockney will hold a ribbon cutting, open house and swearing-in ceremony for the police department at its new headquarters, 305 N. Main St., next Monday, Sept. 27 from 11 a.m. to 4 p.m. The Lockney Volunteer Fire Department will prepare a free meal for visitors.
Fitzwater invites anyone with questions about the department to send him an email at cfitzwater@cityoflockney.com. The department can be found on Facebook by searching "Lockney TX Police Department".