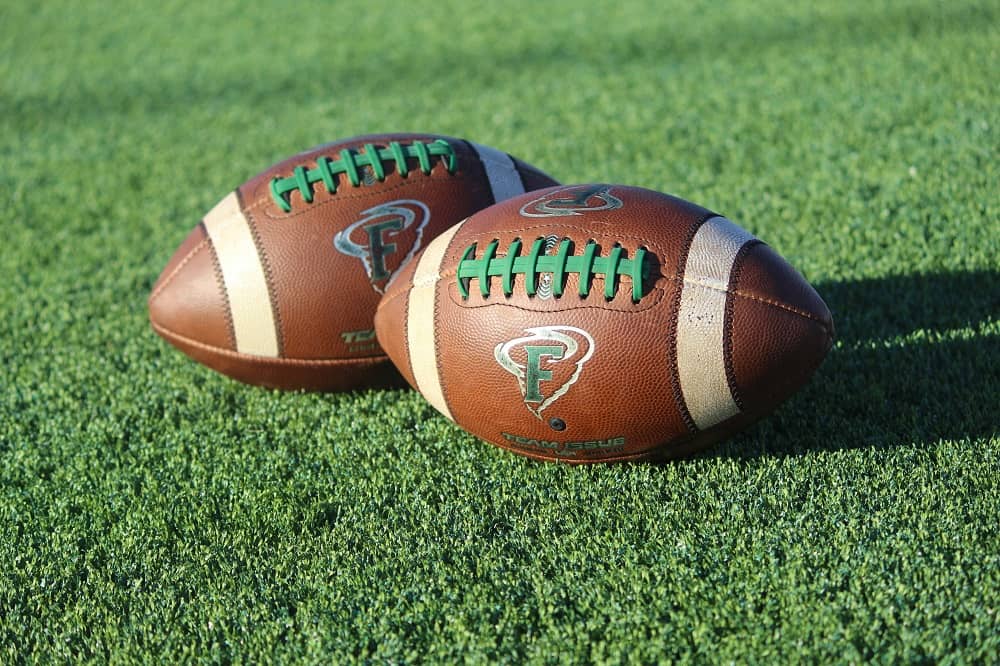 (File Photo/Deon Zumwalt)
The past three seasons District 2-2A-I has seen their district champion advance all the way to the 2A-I UIL State Championship Game at AT&T Stadium in Arlington, home of the Dallas Cowboys.
The New Deal Lions played in the championship contest in 2018, followed by back-to-back advancements by the Post Bold Gold Antelopes. Each year the 2-2A-I team finished as the state runner-up.
This past Friday, October 1, all five schools in 2-2A-I had an open date on their schedule. Each has played five non-district games to this point. Here is a look at how the teams stand at mid-season. They are listed in the order that Dave Campbell's Texas Football predicted them to finish in the June publication:
New Deal Lions (4-1)
New Deal has been a top-10 team in the state in class 2A-I since Dave Campbell's released their pre-season ranking. The Lions are currently rated number 7 by Dave Campbell's as of Monday, September 27. New Deal has a veteran team with eight starters from their 2020 offense and defense units which includes 14 seniors on the 2021 roster; they have a massive offensive line that averages 6'2" 267 pounds; a winning tradition not only in football but virtually every sport the school plays; an abundance of speed on both offense and defense; and big play-makers with experience.
Key win this season: Beat Wellington 28-6 on game 2. The Skyrockets were a top 10 team of 2A-II
Best game: Despite losing to Idalou 28-14 on week 5, the Wildcats were a top 10 team in 3A-II and undefeated just like New Deal was at the time.
Season scoring avg.: 41-8
Balanced offensive production: 280 yards rushing per game that scored 17 TDs; 136 yards passing per contest has made 14 TDs
Key weapons: Sr. QB Harley Patterson is a dual threat; passing for 813 yards and 14 TDs; rushing for 262 yards and 5 TDs; Sr. RB/LB Leric Eaton has run for 832 yards. 10 TDs and leads the defense with 55 tackles; SR WR Jordan Aubrey has 457 yard receiving and 9 TDs; Jr. RBs Kendrick Nelson and Clyde Johnson have 247 and 234 yards respectively plus 1 TD each
Turnover battle: Lions defense has forced 15 turnovers; offense has committed 6 give-aways
Post Bold Gold Antelopes (1-4)
The two-time defending State Finalists and 2-2A-I Champions were decimated by graduation that lost 19 seniors. The Antelopes had only one returning starter on offense and three on defense. Post does have a pair of Division 1 college commits on the 2021 squad: JR LB/RB Izaiah Crawford (6'4" 210 lbs) that is already verbally committed to Baylor in the Big 12, SR DE/REC Zach Courtney (6'7" 235 lbs) verbally committed to Colorado of the PAC-12.
Only win this season: Defeated the Slaton Tigers 25-19 in week 5
Surprise season-opening loss: No one saw a 48-0 loss to the Tolar Rattlers coming, but Tolar has made a hot start with a 4-1 record thanks to blanking Post. Tolar is approximately 40 miles southwest of Fort Worth.
Tough three-game stretch weeks 2-4: Fell to the Forsan Buffaloes (5-0) 22-6; edged by the Littlefield Wildcats (3-2) 22-21; beaten by the Abernathy Antelopes (5-0) 33-7. Forsan is currently number 10 in 2A-I, and Abernathy is rated number 9 in 3A-II both by Dave Campbell's.
Top producers: SR RB/LB Izaiah Crawford has run for 358 yards, 2 TDs; JR RB/LB Steven Huff has 192 yards on the ground; SR Rec/DE Zach Courtney has 138 yards receiving, 2 TDs; JR QB Will Fairbanks has 2 TD passes
Season scoring avg.: 12-29
Sundown Roughnecks (3-2)
Sundown has consistently been a part of 2-2A-I's three-headed monster in recent years with Post and New Deal. The Roughnecks are a perennial playoff qualifier and have done well advancing three rounds in 2020. They had solid returning starter experience with 6-offense and 5-defense regular back in 2021. The Roughnecks have been on somewhat of a rollercoaster ride this season, but have a two-game winning streak coming into district.
Biggest win: Outlasted the previously undefeated Farwell Steers 9-7 in 6 overtimes on week 5. See the Floyd County Record for a feature story on this incredibly exciting marathon victory.
READ: Lockney native Cummings, Sundown win 6-OT thriller over Farwell
Surprise upset loss to start the season: Muleshoe turned some heads that the Mules are improved after knocking off the Roughnecks 33-14 on week one.
A pair of convincing wins: Shutout the Sudan Hornets 40-0 on week 2; cruised to a 31-7 win over the Stanton Buffaloes on week 4
Sundown is part of the "wrath" of Abernathy: The top-10 Abernathy Antelopes (5-0) of 3A-11 have been rolling all season. The Lopes were powerful in a 50-13 win over Sundown in week 3.
Key producers for Sundown: JR QB Hunter Tindol is a dual threat with 452-yards passing, 8 TDs plus running for 153 yards, 4 scores; JR RB Isaiah Flores has 250 yards rushing, 3 TDs in 3 games;
SR RB E.J. Hernandez has 191 yards rushing, TD in 2 contests; Receivers Robert Soliz and Koy Torres have 157 yards and 145 yards respectively with 2 TDs apiece.
Big question about Sundown: two of their top running backs have missed 2 or more games each due to injuries. It is uncertain if either one or both will return for district play.
Scoring average: 21-19
Hale Center Owls (2-3)
Hale Center was predicted by Dave Campbell's to a respectable fourth place in 2-2A-I with six returning starters on both offense and defense coming back from a 6-5 playoff team in 2020. SR QB Hunter Thompson was expected to lead the team with 12 seniors on the roster, but Thompson has not played in at least two games with some apparent undisclosed injury. He is a son of one of the Owl assistant coaches. SR RB/LB was forecast to be a top player on both sides of the ball. Receivers Anthony Ramirez and Zedric Guerro were predicted to be top pass catchers for Thompson. No stats are available on Hale Center on Max Preps, and post-game stories have been inconsistent during non-district play.
Two wins by Owls: Defeated Amarillo Highland Park (0-5) 26-12 on week 2, and Memphis (1-4) 32-13 on week 3.
Lost to a trio of opponents that have just 1-loss each: Fell to Seagraves (4-1) 27-8 on week 1; outscored by Clarendon (5-0) 51-26 on week 4; and knocked off by Olton (3-1) 33-12 on week 5.
Main question on Hale Center: Is SR QB Hunter Thompson going to be playing in district? Thompson is a playmaker and good athlete.
Scoring average: 21-27
Floydada Whirlwinds (1-4)
A youthful roster with only 5 seniors, 9 juniors and 10 sophomores was probably the major concern about the Whirlwinds to start the season. Floydada has been just under .500 in the turnover category — 12 by the Whirlwinds offense, while the defense has 13 take-aways. The turnovers definitely played a key role into the 0-2 start for Floydada. The cupboard is not empty for Floydada on offense with some playmakers that are predominantly underclassmen. The defense has had its moments were they have been difficult to run against (except Roosevelt in week 5) and forced 7 fumbles, plus a secondary that has come away with 6 interceptions.
Top producers: JR RB/LB Andres Mendoza has rushed for 314 yards, 4 TDs and caught 12 passes including a TD in 4 games; SR QB Trace Glassock has 686 yards passing, 3 TDs; JR Rec/Safety Saul Reyes has 313 yards receiving, TD, picked off 2 passes on defenses, and is an exciting punt returner; JR LB/RB/QB Izaiah has been a versatile fill-in player on offense and leads the defense with 64 tackles; defenders Jayson Cooper, Aden Trevino, Davian Ramos and Hagen Hinsley have 138 tackles combined (an average of 28 per game); sophomore linebackers Hinsley and Trevino have 9 and 5 tackles for loss respectively.
Only victory: Winds played a strong second half to put away Smyer (0-5) 34-8 on week 3.
Bright moments but not enough for wins: Shutout by their in-county rival Lockney (4-1) 24-0 despite controlling the ball the biggest part of the first half and trailed 3-0 at intermission; beat by New Home (3-2) 34-20 by a very efficient no-huddle uptempo offense of the Jaguars, but the Whirlwinds made it interesting through the first three quarters.
Whirlwinds found out how good Roosevelt was in a tough lesson: Roosevelt is 5-0 for a reason with their extremely versatile, explosive and smart Flexbone triple option offense to along with a defense that is aggressive, athletic and underrated. Floydada had no answer on either side of the ball against the veteran Eagles in week 5.
Tulia, Lockney and Roosevelt were solid teams: Combined records of 13-2 thru September.
Average season scoring: 11-32
Tahoka Bulldogs (0-5)
The least info was attainable about the winless Bulldogs. Tahoka had five starters projected on each offense and defense returning from a 3-7 team in 2020 (0-5 in district).
Young roster: 5 Sr., 6 Jr., 5 Soph., 6 Fresh.
Toughest loss: Edged out by Seagraves (4-1) 28-26 on week 2
Part of the Roosevelt conquest: Shutout by Roosevelt (5-0) 59-0 on week 3. The Eagles have been pushing teams around by an average score of 48-3 this season.
Ropes and Crosbyton are improved: Lost to both Ropes (4-0) 42-8, and Crosbyton (3-2) 21-0. Crosbyton is currently on a three game winning streak
Average season scoring: 10-38