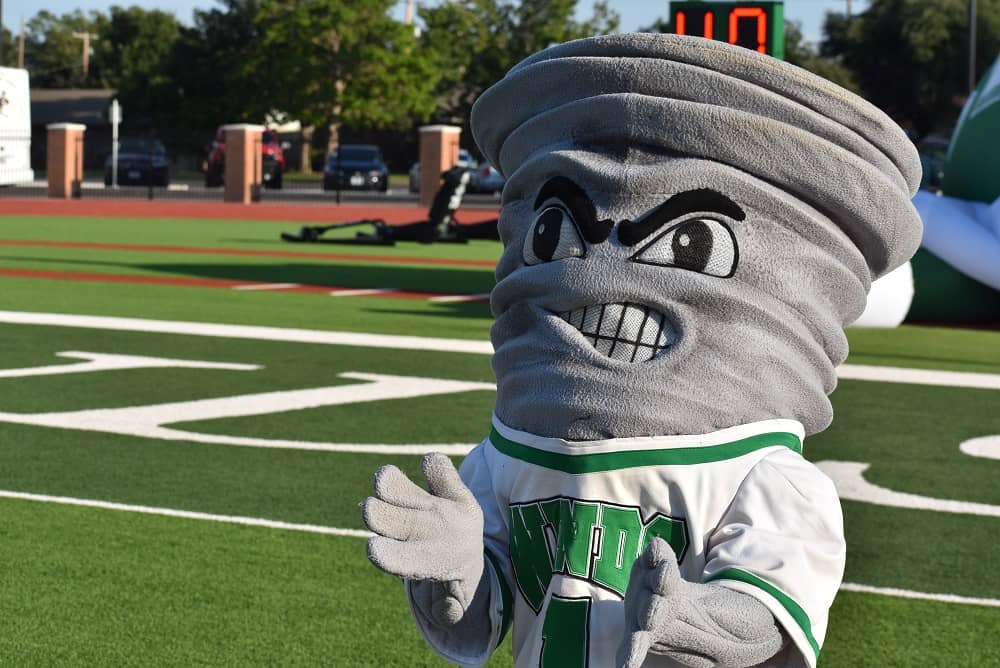 Floydada's mascot, Windy the Whirlwind (Ryan Crowe/Floyd County Record)
TAHOKA — Friday's District 2-2A-I opener between the Floydada Whirlwinds (1-4) and the Tahoka Bulldogs (0-5) will not decide a playoff position, but both are in a need-to-win situation to get a jump start on the playoff discussion when the two tangle at Bulldog Stadium Friday night. According to Lone Star football network, Floydada has dominated this series with a 13-1-1 record against the Bulldogs. The Whirlwinds were victorious in 2020 by a unique score of 11-8 at Charles Tyer Stadium. Floydada owns a six-game winning streak against Tahoka since the Bulldogs last won in 2000.
"Tahoka and Floydada are in the same boat. We both need to win this game as far as the district race is concerned," Floydada coach J.R. Compton told the Record. "That thought of 'need' should make this a good game. I expect each team to give it their best shot on Friday."
There are a lot of similarities between these two programs. The combined season records of the teams the Whirlwinds have lost to are 16-4, while the opponents' records for the Bulldogs are 18-6. Scoring averages in non-district were 11 points per game by Floydada, and Tahoka scored 10 points per outing. Both gave up in excess of 30 points a game to their foes.
Since to the first scrimmage in August, Compton has made reference to the Tahoka game almost weekly.
"When we roll into Tahoka for the district opener, we want to be playing good football," Compton said. "In Texas high school football, the slate is wiped clean when district starts. The results of the previous games are water under the bridge. What you learned is what is important right now and as we go forward."
Even after the very tough loss to Roosevelt two weeks ago, Compton said after the game, "I told the team we can either run from adversity or face it head on. We decided we will face it. We are not running away."
One of Floydada's biggest weapons on offense, junior running back Andres Mendoza, will return to action after a nagging hamstring injury that originally occurred during track in the spring and kept him out of the Roosevelt game. Mendoza has a team-leading 314 yards rushing which includes four touchdowns. He also has scored on a pass reception.
Compton anticipates Mendoza will share time with junior Izaiah Alvarado. Alvarado has been priceless for the Whirlwinds this fall by playing quarterback, running back and receiver on offense, plus he's the leading defender with 64 tackles at linebacker. Alvarado has been "Mr. Next-Man-Up" all season.
The Whirlwinds will probably be without the services of junior Saul Reyes due to an injury. Reyes is Floydada's top receiver with 20 catches for 313 yards and a touchdown. Reyes is also a lethal weapon as a kick returner and has made two interceptions on defense. Reyes is a very versatile athlete with great football speed and moves.
Senior quarterback Trace Glasscock is the second-leading passer in 2-2A-I with 686 yards. Harley Patteron of New Deal has thrown for a district-leading 813 yards and 14 scores. Floydada could use a good night of passing against Tahoka. Sophomore Aiden Trevino has been the Whirlwinds' next-best receiver with 14 catches.
Floydada's run defense has been a bright spot during the first half of the season. Behind Alvarado in the individual tackles are Jayson Cooper with 43,  Trevino with 36, Davian Ramos with 32, and Hagen Hinsley with 29. Hinsley leads the squad with nine tackles-for-loss (TFL), followed by Ramos with five. Five different players have intercepted a total of six passes by opponents, and seven Whirlwinds have recovered a fumble each. Floydada leads in the take-away department of 13-12 thus far in the season.
The Whirlwinds' defense will have the task of stopping Tahoka's I-formation running attack, according to Compton.
"You don't see many teams run the I-formation during this day and time," Compton said. "Tahoka has a good tailback in freshmen Jordan Martinez as the primary workhorse, and sophomore quarterback Zane Garvin runs sprint-outs. They also have a tall receiver in junior Hunter Garrison that can make plays. We will need to contain that trio the best we can."
Kickoff will be at 7 p.m. Friday at Bulldog Stadium in Tahoka. Floydada is a touchdown favorite according to the Harris Ratings. Live radio coverage will begin at 6:45 on 106.1 Flip FM, and video is available here at FloydCountyRecord.com.
District 2-2A-I Season Records:
New Deal – 4-1
Sundown – 3-2
Hale Center – 2-3
Floydada – 1-4
Post – 1-4
Tahoka – 0-5
District Schedule for Oct. 8:
Floydada @ Tahoka
New Deal @ Hale Center
Post @ Sundown