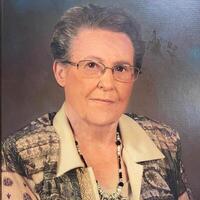 Elna Bloys (Floydada)
Elna Sanderson Bloys age 90, of Floydada, passed away Sunday, October 18, 2021, in Lubbock, Texas.  A graveside service will be held Saturday, October 23, 2021, at the Floyd County Memorial Park in Floydada.  Visitation/viewing will be from 8:00 a.m. – 5:00 p.m., Friday, October 22, 2021, at the Moore-Rose Funeral Home in Floydada. Arrangements are under the personal care of Moore-Rose Funeral Home.
Elna Bloys was born April 23, 1931, in a half-dugout house near Morton Texas to Asa Leonard and Ludie Sanderson. The family moved to a farm south of Lockney when she was 2-years old to build a new life on a farm her grandparents had settled. A hard worker from an early age, as a child she was responsible for bringing in the cows for milking, gathering cow chips for fuel, herding the turkeys to new pastures, gathering eggs, and other chores necessary for life on the farm. Although she was only five foot tall, as a teenager she was known to her friends in Lockney as "muscles" for the strength she developed in her hands and arms milking cows.
When she was 14 she met the love of her life, Gene Bloys, at a movie theater in Plainview. They met secretly at the theater for about a year before her parents allowed her to meet him openly as long as she was chaperoned by her cousin Bill Horton. Six years later she married Gene and the young couple move in with Gene's parents while Gene built a cinder block house in Plainview for his new bride. It was in this house that their first son, David, was born in 1950. They traded the house in Plainview that Gene built for a down payment on part of the farm where Elna grew up.
They next moved into a farmhouse where their second child, Kenneth James Bloys, was born. When Elna's father died, the couple moved to her family's homestead and took over the operation of the farm. Elna had attended Draughon's Business College, so she handled the business end of the operation while at the same time working side-by-side with her innovative and ambitious husband. Together they built a successful farming and ranching operation that at its' peak covered 1200 acres.
In 2009, Gene lost his left leg. That same year, Gene and Elna lost their son, Kenneth, who had been tending the farm after returning from California due to health concerns. In 2018, Gene and Elna Bloys moved to Shallowater to be closer to their remaining son and medical facilities in Lubbock. They lived together in an apartment inside their son's home for three years and celebrated their 73rd Wedding Anniversary in 2020.  Gene died five months later in December. On October 18, 2021, Elna Bloys was reunited with her beloved husband in heaven.
Elna was preceded in death by her mother and father; her son, Kenneth James Bloys; her sister, Acenith Kinard; her cousin and lifelong friend, Bill Horton; and her nephew, Jerry Mickey.
Those left to cherish her memory are her son, David Bloys and his wife Mary Street of Shallowater; niece, Betty Mickey of Rock Port, Texas and sister-in-law, Mary Bloys of Plainview, Texas;  her grandchildren,  Shane Bloys and wife Mellissa of Rockwall, Texas, Joshua Bloys and wife Victoria of Abernathy, Laura Bird and husband Jason of Coppell, Texas,  Kathy Ramge and husband Jim of Fairfield, California and Shannon Herzog of Colorado, and Penny Rainey and husband Bobby of Shallowater; her great-grandchildren: Katelyn Bloys, Caleb Bloys, Hudson Bird, Ian Bloys and Elizabeth Bloys, Bryan Rainey, Novalee Rainey, and Daniel Rainey, and grand-nephews, Randy and Mike whom she loved.