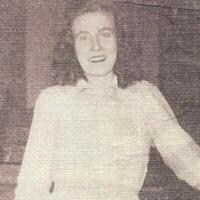 Myrtis Sargent Cope (Lockney)
Myrtis Sargent Cope, age 92, passed away on Tuesday, October 19, 2021.  Funeral services will be at 3:00 p.m., Thursday, October 21, 2021, at the Moore-Rose Funeral Home Chapel in Lockney.  Private interment will follow.  Arrangements are under the personal care of Moore-Rose Funeral Home in Lockney.
Myrtis was born October 28, 1928, in Floyd County to Luther "Luke" and Myrtle (Assiter) Sargent and was the youngest of five girls. She graduated from Floydada High School as Class Valedictorian in 1945 at the age of 16 and went on to graduate from West Texas University three years later. In 1949, Myrtis fell in love and married E.C. Cope who left this world in 1995.
Myrtis had a fascination with numbers and a passion for antiques. This unique combination took her down a path of educating students in the art of mathematics at Lockney High School from 1950-1965. Around this time, she and E.C. moved to Oklahoma and embarked on a journey to fulfill her passion for all things antique. For more than 30 years, the couple scoured the country for antiques to buy and sell at Canton Trade Days, which brought them much joy and adventure. Many family members and friends are proud beneficiaries of their many years of antique hunting.  Her love of family and her hometown brought Myrtis back to Floyd County in 1995 where she continued buying and selling her treasures for many more years. Myrtis was a valued treasure to all who were blessed to know her.