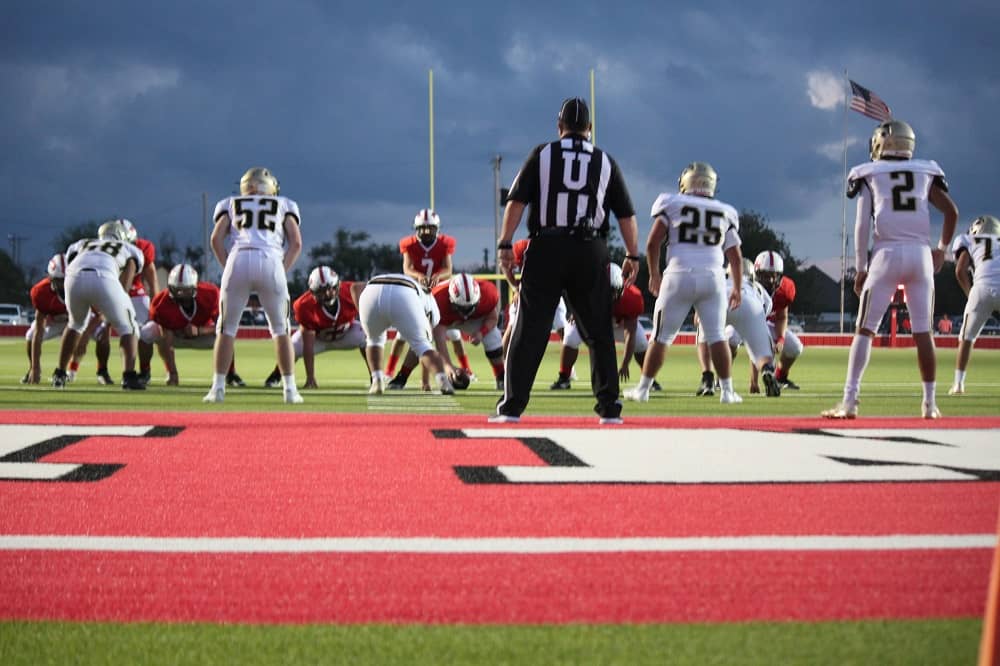 The Lockney Longhorns line up in the red zone during their homecoming game against the Memphis Cyclones on Oct. 8, 2021. (Alex Driggars/Floyd County Record)
HAMLIN, Texas — Lockney's defense has been a consistent force this season, and the Longhorns returned two pass interceptions for touchdowns that propelled them to a 40-15 win over the Hamlin Pied Pipers this past Friday. The win clinches one of the top three playoff positions out of District 5-2A-II with two games remaining in the regular season. Lockney now has won seven games in a row and improve to 7-1, 2-0 on the season.
Lockney lost its first of four fumbles on the night in the first quarter, leading to a 20-yard field goal for the Pied Pipers. Lockney would answer with three touchdowns in the second quarter to hold a 19-3 lead at halftime. The Pied Pipers scored the initial touchdown in the third quarter to reduce Lockney's lead to 19-9. The Longhorns then had their second spree of three straight scores to build the lead to 40-9 early in the fourth quarter and coast to the playoff-clinching victory.
The interceptions returned for Lockney touchdowns were by Austin Rodriguez for 60 yards and Elias Alvarez for 50 yards. The Longhorn defense has created 35 take-aways this season, and three have been interceptions returned for scores.
Lockney's running game was held to a season-low 116 yards, but quarterback Pablo Morales had another good game of passing to spark the Longhorns offensively. Morales was 6-of-9, passing for 159 yards and two touchdowns, plus he added two touchdown runs.
Nathan Cineceros made his usual contributions to the Longhorn win with 67 yards rushing, 64 yards receiving, and he led the team with 10.5 tackles. Jesus Gonzales had 60 yards receiving. Both scored one touchdown each.
Lockney won a game they were expected to win, and did not fall into a "trap of looking ahead" to the next outing against the co-leader of 5-2A-II, the Roscoe Plowboys, who have the identical record of Lockney at 7-1, 2-0. The Longhorns and Plowboys will tangle this Friday at Mitchell-Zimmerman Stadium.
Scoring Summary
Lockney – 0 19 14 7 – 40
Hamlin – 3 0 6 6 – 15
Records: Lockney (7-1, 2-0), Hamlin (0-9, 0-3)
First Quarter
H – 20 yd FG
Second Quarter
L – Pablo Morales 1 yd run (Josh Jiminez kick)
L – Morales 64 yd pass to Nathan Cineceros (missed kick)
L – Austin Rodriguez 60 yd interception return (pass failed)
Third Quarter
H – 40 yd run (PAT failed)
L – Elias Alvarez 50-yd interception return (kick failed)
L – Morales 41-yd run (pass to Cineceros)
Fourth Quarter
L – Morales 60 yd pass to Jesus Gonzales (Jiminez kick)
H – 2 yd run
Lockney Stat Leaders 
Pablo Morales – 159 yds. passing, 2 TDs and 2 TDs rushing
Nathan Cinecros – 67 yds. rushing, 64 yds. receiving (TD), 10.5 tackles
Team offense 284-yds
District 5-2A-II Results – Oct. 15
Lockney 40, Hamlin 15
Roscoe 58, Crosbyton 8
Ralls – open
District 5-2A-II Standings
Lockney – 2-0, 7-1
Roscoe – 2-0, 7-1
Ralls – 1-1, 5-3
Crosbyton – 1-2, 4-5
Hamlin – 0-3, 0-9