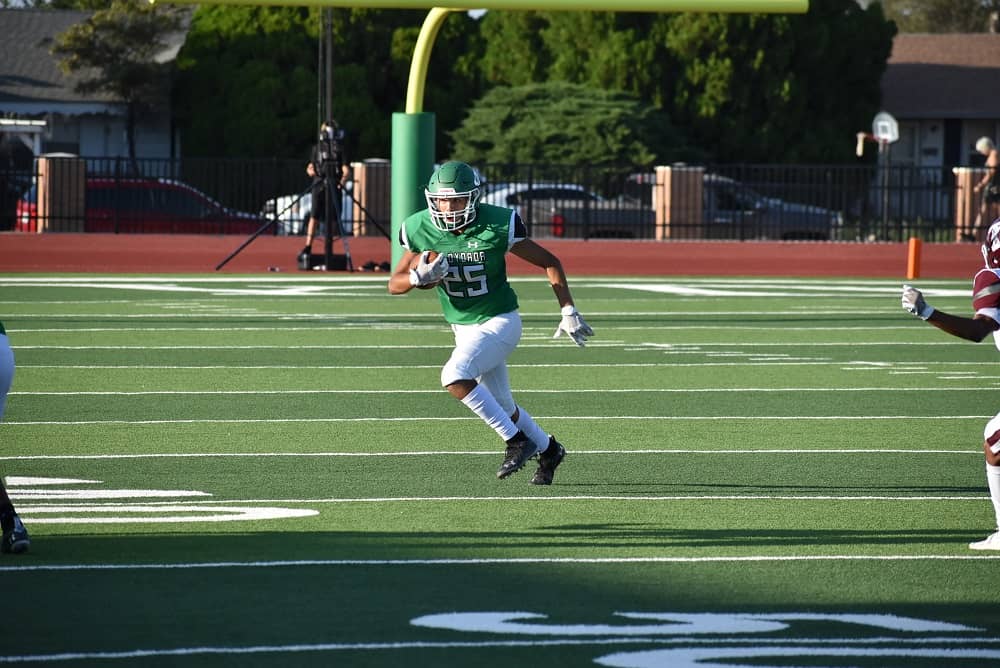 Floydada's Aiden Trevino runs the ball during the Whirlwinds' 2021 season opener against the Tulia Hornets at Tyer Stadium. (File Photo/Ryan Crowe)
POST — The Post Antelopes used a big second quarter of 29-points to take a 42-0 win over the Floydada Whirlwinds (2-6, 1-2) in District 2-2A-I play at Jimmie Redman Memorial Stadium on Friday night. Senior running back Steven Huff had a career night by rushing for 300 yards and three touchdowns to lead Post (2-6, 1-2).
The Whirlwinds got to mid-field on their first two possessions that ended with a turnover and stopped on downs by the Antelopes. Post then got its running game into a groove with five consecutive scoring drives to build up a 38-0 halftime lead.
Floydada had a nine play possession in the first quarter and a 10-play drive in the third stanza that were unable to produce any points.
Izaiah Alvarado was Floydada's leading rusher with 50 yards plus he recovered a Post fumble. Ty Henderson made his fourth interception of the season, Floydada remains tied for third place in the district standings.
Scoring Summary
Floydada – 0 0 0 0 – 0
Post – 6 29 7 0 – 42
Records: Floydada (2-6, 1-2), Post (2-6, 1-2)
District 2-2A-I Results – Oct. 15
Post 42, Floydada 0
New Deal 49, Tahoka 0
Sundown 42, Hale Center 6
District 2-2A-I Standings
New Deal – 3-0 7-1
Sundown – 3-0 7-1
Hale Center – 1-2 3-5
Post – 1-2 2-6
Floydada – 1-2 2-6
Tahoka – 0-3 0-8
District 2-2A-I Schedule – Oct. 22
Floydada @ New Deal
Post @ Hale Center
Sundown @ Tahoka