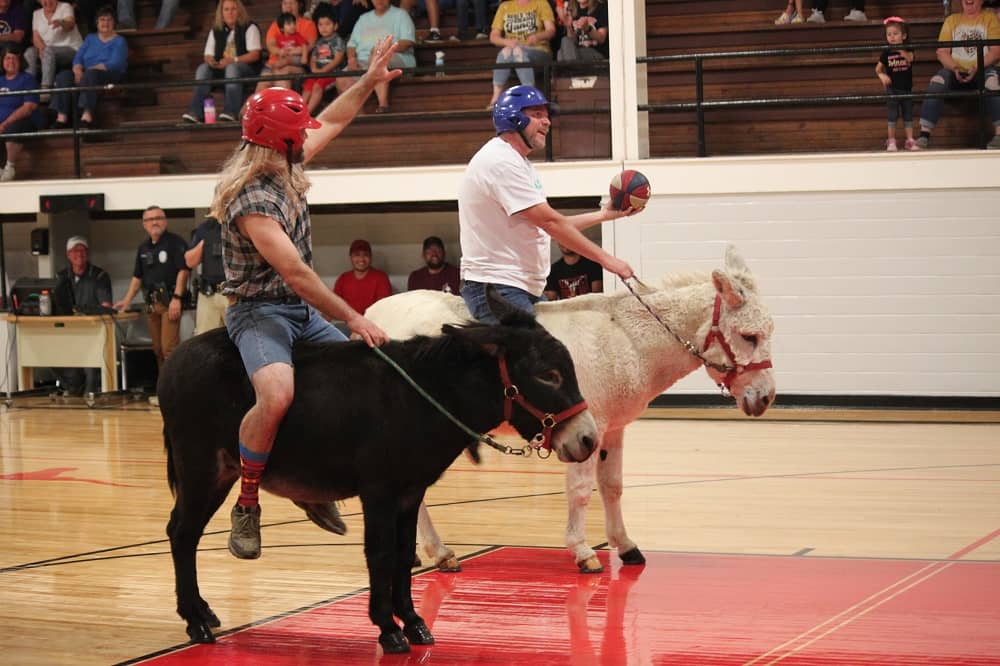 Lockney Elementary principal Mike Michaelson goes in for a layup during the donkey basketball games on Oct. 25, 2021. (Alex Driggars/Floyd County Record)
LOCKNEY — The Lockney Chamber of Commerce provided a unique entertainment opportunity on Monday evening when citizens had a chance to watch their friends and colleagues participate in a "Dairyland Donkeyball" tournament at Lockney Junior High School.
Four teams of community members tried — and often failed — to shoot hoops while on donkeyback during the games. The Honky Tonky Donkeys, a team consisting of Lockney ISD faculty and staff, squared off against the Ba-Donkey Donks, a team of community leaders and business owners. Then, the hospital's Mangold Jacks took on Lockney students on Team Donkey Kong.
At halftime, children were given free donkey rides.
The donkeys were often uncooperative, and at several points gameplay was stopped to allow a "sanitation team" consisting of several players from the 7-1 Lockney Longhorns football team to scoop up droppings on the court — from the donkeys, of course.
"It's something we did a long time ago, like 20 years ago," Karen Wilson of the Lockney Chamber of Commerce explained. "We just decided we would try to bring it back just to have something fun to do," she said.