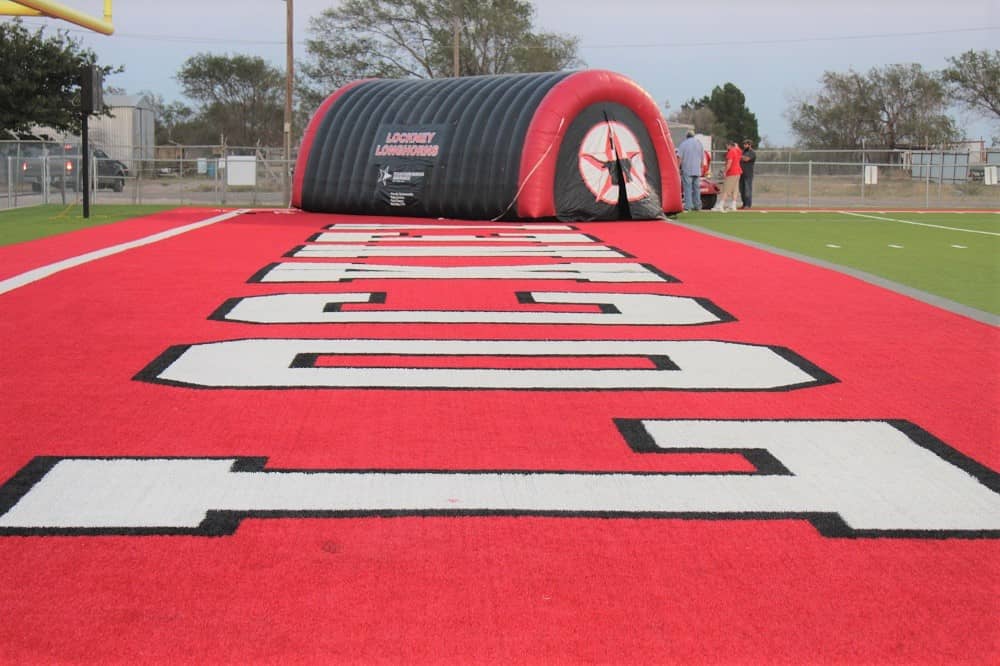 (File Photo/Deon Zumwalt)
LOCKNEY — The kind of matchup you want late in the season will take place on Friday at Mitchell-Zimmerman Field when the Lockney Longhorns (7-1, 2-0) and the Roscoe Plowboys (7-1, 2-0) meet in a very important District 5-2A-II game. The winner will assure itself at least a share of the District Championship with still one game to play in the regular season.
Both the Longhorns and Plowboys bring a seven game winning streak to the showdown and the  credentials required to be in a game like this. Lockney lost in their season opener to the Ropes Eagles 31-7, while Roscoe was defeated by the Hawley Bearcats (8-0) 34-14 in game one. Those losses occurred on August 27, and neither team have tasted defeat throughout September and October. The Longhorns have been outscoring their opponents by an average of 37-11 this season, while the Plowboys have been winning by a 34-18 margin.
Both teams have balance in their offensive attacks. Lockney has a been a run-first team this season by averaging 201 yards on the ground, while its passing game generates 89 yards per outing (for a total of 290 offensive yards per game). Roscoe has passed for an average of 192 yards and run for 152 yards (total of 344 yards per game).
Roscoe sophomore quarterback Jax Watts has passed for 885 yards to lead the Plowboys. Roscoe's running attack has a trio of backs combining for 627 yards on the ground. Lockney's top producers have been senior running backs Nathan Cineceros with 619 yards and Elias Alvarez with 440 yards, while senior quarterback Pablo Morales has 530 yards passing.
Lockney's defense has been an aggressive unit with 35 take-aways from their opponents. Turnovers have a trend of factoring into big games, and this could be a key thing for the Longhorns.
"The main thing that sticks out about Roscoe is their speed and aggressive style of play," said Lockney coach Cory McCombs.
Lockney's Season
Ropes – 7-31
Floydada – 24-0
Boys Ranch – 34-14
Plains – 34-0
Compass – 67-22
Memphis – 52-0
Crosbyton* – 40-7
Hamlin* – 40-16
Roscoe's Season
Hawley – 14-34
Stamford – 37-26
Miles – 42-24
Christoval – 42-30
New Home – 44-12
Sudan – 6-0 (lightning stopped game)
Ralls* – 26-14
Crosbyton* – 58-8
*District games
District 5-2A-II Standings
Lockney – 2-0, 7-1
Roscoe – 2-0, 7-1
Ralls – 1-1, 5-3
Crosbyton – 1-2, 4-5
Hamlin – 0-3, 0-9
District 5-2A-II Schedule for Oct. 29
Roscoe @ Lockney
Ralls @ Crosbyton
Hamlin – open