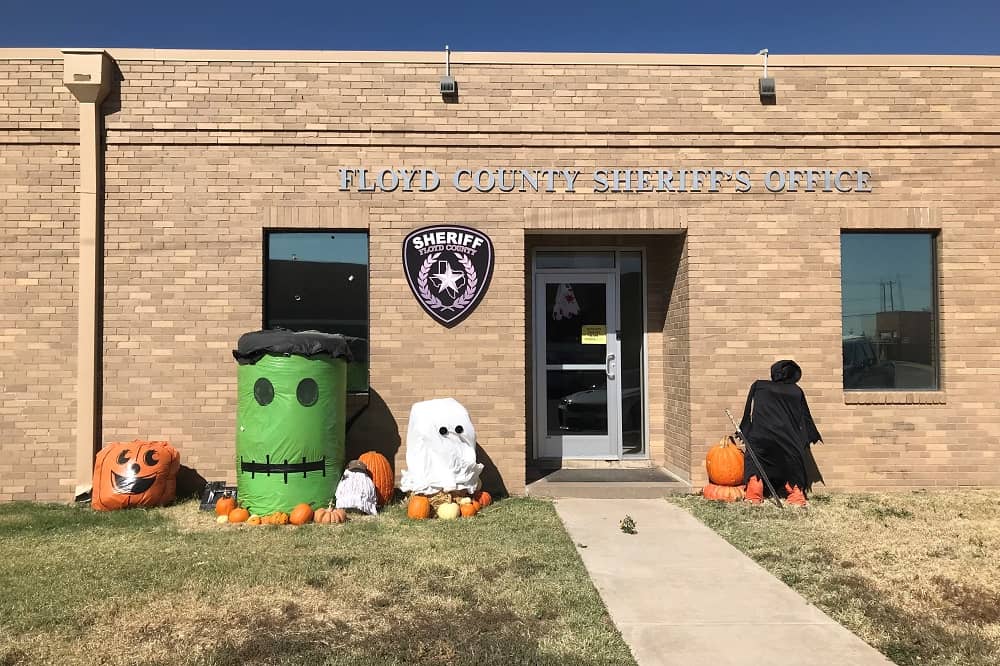 The Floyd County Sheriff's Office is seen decorated for Halloween 2021. (Alex Driggars/Floyd County Record)
FLOYD COUNTY — As we approach the end of October, a number of festive fall and halloween events are taking place across the area.
The fun kicks off Saturday morning with the Harvest Festival at First United Methodist Church of Lockney. The church's "country store" will open at 10:45 that day selling a variety of homeade canned and baked goods. Starting at 11, festivalgoers can dine in or carry out a turkey meal with dressing, sweet potatoes, green beans, cranberry sauce, a homemade roll and peach cobbler. A silent auction with various handicrafts, decor and jewelry will also be held during this time. Questions can be directed to the church at (806) 652-2193.
Then on Saturday evening from 5-6, the Lockney community is holding a Trunk-or-Treat down Main Street.
Following that event, Lockney Elementatry School's Halloween Carnival is taking place at the school for students and their families. Activities at the carnival include face painting, a cake walk, football throw, hay bowling, corn hole and a haunted house. Concessions will also be available. Tickets will be sold at the door in bundles of 10 for $5.
Floydada's turn to Trunk-or-Treat comes around on Halloween night on the courthouse square. The Floyd County Sheriff's Office and the Floydada Chamber of Commerce are sponsoring this event from 5-6 p.m. Besides candy, the Sheriff's Office will be holding a costume contest in front of the SO with prizes for the best dressed. Visitors can also pick up a sausage wrap and a drink for $4.