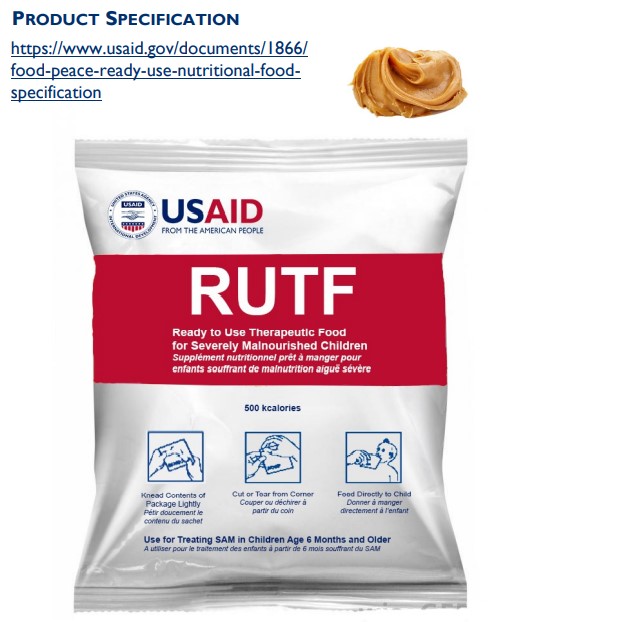 Sample Ready to eat survival package meal from USAID.
WASHINGTON, DC – What if you had the key to unlock a life-saving measure needed by 2.4 million children worldwide, that would not only save their lives but would also put them on the path to good nutrition?
What if that key was a peanut-based paste rich in vitamins and minerals, doesn't require refrigeration, can stay fresh for up to two years and doesn't require mixing with potentially contaminated water, all for under $20 per child per month?
The "miracle" of life is called a RUTF which stands for ready-to-use therapeutic food and is produced using dairy and peanut products from the United States.
On Thursday, a bipartisan group from the House Agriculture Committee sent a letter to Agriculture Secretary Tom Vilsack (USDA) and Samantha Power, Administrator of the U.S. Agency for International Development (USAID), in support of RUTF production as child malnutrition rates rise globally and requesting data on RUTF usage while pushing for increased production to combat global hunger around the world.
Rep. Austin Scott (GA-R) and Jim McGovern (MA-D) explained that these low-cost packets of RUTF can bring a child on the brink of death back to life in a matter of weeks, yet less than 20 percent of the nearly 50 million kids in need, globally, receive this treatment. "With this information, we can ensure that treatment and prevention for child wasting are prioritized (and) can ensure that our nutrition programs have sufficient funding and are coordinated efficiently to reach the most vulnerable children."
(SOURCE: All Ag News)