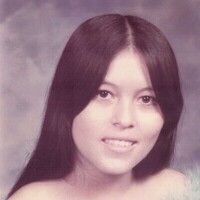 Isabel Ybarra (Floydada)
Isabel Ybarra, 62, of Floydada, passed away on November 3, 2021 in Lubbock, Texas.  A memorial service will be held Friday, November 5, 2021 at 6:00 p.m., and her funeral service will be held at 2:00 p.m., Saturday, November 6, 2021, both at the Moore-Rose Funeral Home Chapel in Floydada. Visitation will be Friday, November 5, 2021, from 8:00 a.m. – 8:00 p.m., at Moore-Rose Funeral Home in Floydada.  Arrangements are under the personal care of Moore-Rose Funeral Home in Floydada.
Isabel was born on December 24, 1958, in Robstown, Texas and graduated from Blaire, Oklahoma in 1977. She worked at Dixie Dog for 19 years and was a home health provider. She loved going to garage sales with her sisters and loved spending time with her children, her family and grandpups.
She was preceded in death by her mother, Sabina Ybarra in 1998; her brother, Armando Ybarra in 2017; and a sister, Anita Navarro in 2021.
Isabel is survived by her children, David Mancilla and Raymond and Sylvia Flores from Lubbock, Texas; her father, Liborio Ybarra; her brother and sister, Liborio Ybarra Jr and Maria Elena Ybarra, all from Floydada; her brother, Luis Ybarra from Altus, Oklahoma; numerous nieces and nephews, and her grand pups, Layla, Bailee, Chiquito, and Lolita.