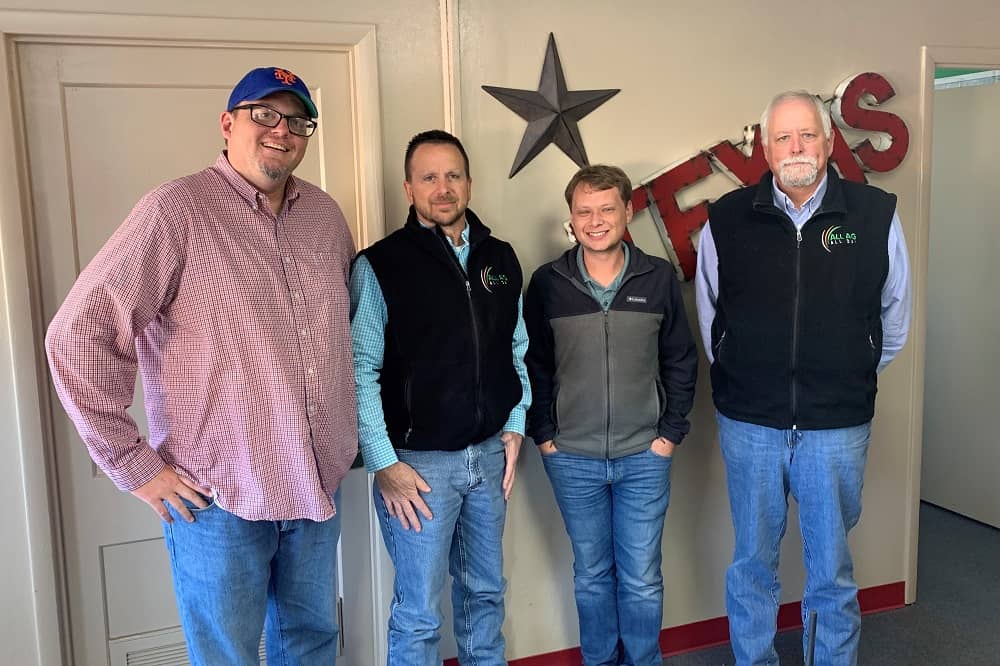 Pictured left to right are Paramount Broadcasting staff members Ryan Crowe, Music Director for 106.1 FLiP FM; Tony St. James, Owner; Alex Driggars, Managing Editor of the Floyd County Record; and Steven Orr, Sales Manager. Not pictured are owner Pamela Ricketts and sales representative Pamela Sweeten. (Courtesy Photo/Kortney DeBock)
FLOYDADA — Paramount Broadcasting Corp. has been named the Business of the Month for November by the Floydada Chamber of Commerce.
Since 1996, Paramount Broadcasting has owned and operated KFLP Radio, which is celebrating its 70th anniversary this year. 106.1 FLiP FM brings a blend of today's top country hits and music from independent Texas artists to listeners across Floyd and surrounding counties. All Ag, All Day 900 AM (which celebrated the 20th anniversary of its launch on Friday, Nov. 5) is one of the only radio stations in the country delivering farm and agriculture news to producers 24 hours a day.
In addition to the local stations, Paramount distributes content to radio stations across the country from California to New York through its All Ag News network and recently launched the 24-hour farm format on KPUR 1440 AM in Amarillo.
Paramount also added the Floyd County Record to its arsenal in 2019, an "online newspaper" that publishes local news and sports content daily for Floydada, Lockney and Floyd County.
Through its media assets, Paramount reaches thousands of listeners and readers every day. The company also partners with dozens of local businesses to help them grow their customer base through advertising.
"We appreciate all the good things the Floydada Chamber does for our community," said Tony St. James, who owns the company with his wife Pamela. "It's an honor to represent our city as Business of the Month."
Folks can get in touch with the radio stations or the Record by calling (806) 983-5704 or dropping by 201 W. California St. in Floydada.