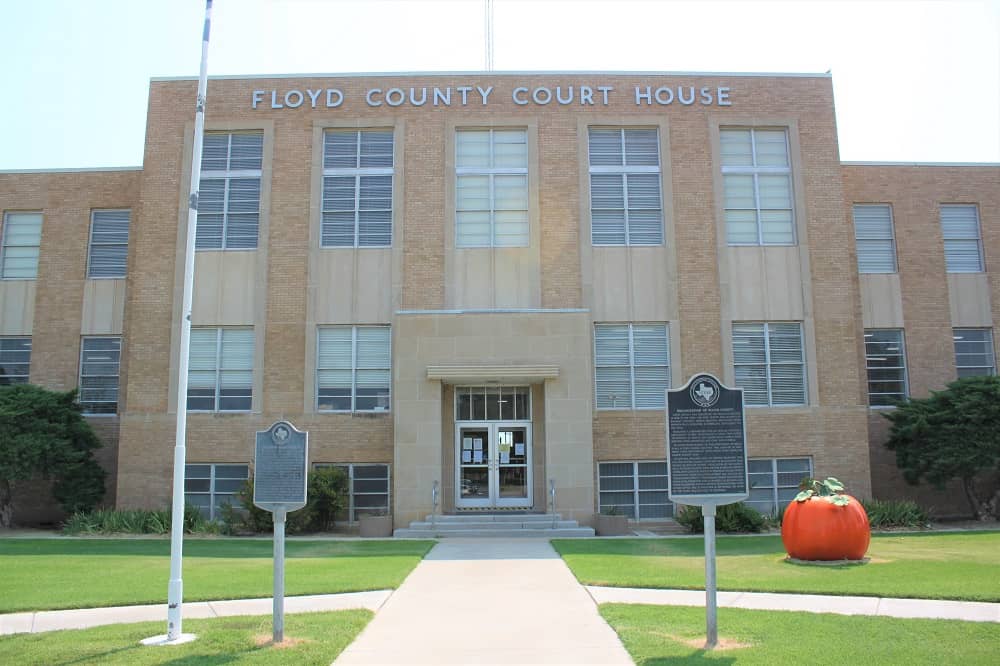 Floyd County Courthouse (Alex Driggars/Floyd County Record)
FLOYDADA — The Floyd County Commissioners Court approved the composition of and appointed a number of members to the new 110th Judicial District Adult Sexual Assault Response Team during their regular meeting on Monday morning.
The purpose of the team is to develop protocols and procedures for law enforcement and crisis responders to follow in case an adult sexual assault occurs within its jurisdiction. The committee will compile a sexual assault response manual and will meet at least four times per year, with the first meeting in December.
All Texas counties are now required to assemble a team of this sort under a recently changed state law, where previously only counties with large populations were required to do so. The law allows for the counties within the 110th Judicial District — Floyd, Briscoe, Dickens and Motley — to form a joint response team.
The composition and membership of the response team, as approved by Floyd County Commissioners on Monday, is as follows:
A designee from the Crisis Center of the Plains in Plainview (representing Floyd, Dickens and Motley counties)
A designee from the Bridge Children's Advocacy Center of Amarillo (representing Briscoe County)
Wade Jackson, 110th District Attorney
Floydada Police Chief Reuben Ramon or designee
Spur Police Chief or designee
Briscoe County Sheriff Garrett Davis or designee
Dickens County Sheriff Terry Braly or designee
Floyd County Sheriff Paul Raissez or designee
Motley County Sheriff Robert Fisk or designee
A designee from Covenant Medical Center
A designee from the Central Plains Center of Plainview (representing Floyd, Briscoe and Motley counties)
A designee from the Helen Farabee Center of Witchita Falls (representing Dickens County)
During the meeting, commissioners also addressed the canvass of ballots from the Nov. 2 special election. Originally slated for this meeting, canvassing was rescheduled to a special meeting next Monday at 8 a.m.